Sky Sports F1's Mark Hughes says Ferrari want to rehire Kimi Raikkonen for 2014
Scuderia planning to pair Finn with Fernando Alonso next year
By Sky Sports Online
Last Updated: 06/09/13 1:10pm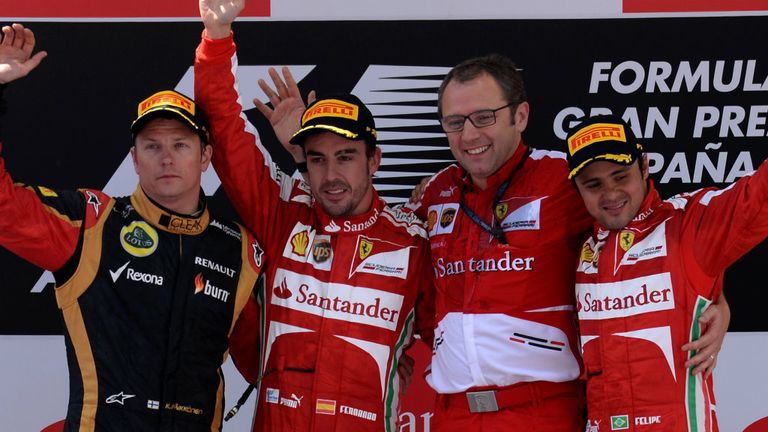 Raikkonen left the Scuderia in 2009 just two years after being crowned World Champion but is now being lined up as a replacement for former team-mate Felipe Massa after a deeply disappointing season for the Brazilian.
"Ferrari have told me that Kimi is very much their target," reports Hughes. "Reading between the lines of what they're saying, if they don't get him they will retain Massa."
Raikkonen, who is out of contract for 2014, remains the last driver to win the World Championship for Ferrari and has impressed throughout his F1 comeback after returning to the sport last year with Lotus.
"I think Lotus, Ferrari and McLaren are all options for Kimi," declared Martin Brundle during Sky F1's coverage from Monza. "He's done an incredible job since he came back to F1. I think he should be on anyone's shopping list."
Alonso himself left McLaren after a single season in 2007, which was characterised by ructions within the team stemming from the emergence of then rookie Lewis Hamilton. The double World Champion insisted on Thursday that he wants to stay put and Hughes doesn't believe an older and wiser Alonso would be perturbed by the prospect of partnering the apolitical Raikkonen.
"Fernando knows Kimi is completely apolitical," Hughes says. "He knows that he's not going to be trying to go behind his back, get the best engineers or anything like that. That's just not Kimi.
"Ferrari got rid of Kimi because they felt that's what they needed. I think Fernando realises that Kimi would not be a threat in that sense.
"Ferrari has operated without a clear number one before, as recently as Raikkonen and Massa."
Sauber's Nico Hulkenberg, Paul di Resta of Force India and Marussia youngster Jules Bianchi have all also been touted as potential replacements for Massa, but according to Hughes "the idea of a di Resta or Bianchi seems to now be off the menu.
"But Ferrari is definitely interested in following Bianchi's progress and we may well see him in a Ferrari-assisted drive a little further up the grid, which would obviously mean Sauber."
On Thursday, team boss Stefano Domenicali refused to deny that Ferrari were thinking of reappointing Raikkonen. "Why not?" he told Sky Sports News' Rachel Brookes.
Raikkonen was reputedly given a £20m pay-off to leave Ferrari four years ago with a year still to run on his contract but has repeatedly insisted the terms of his departure shouldn't be a barrier against him making a return to the team.
"I never had anything against anybody and always certain things can be different to how they were in the past," the Finn said of his current relationship status with Ferrari ahead of this weekend's Italian GP.
Raikkonen's popularity with the Tifosi certainly seems undimmed. 'Kimi on pole' proclaimed one banner, which was unfurled right next to a Ferrari flag along the start-finish straight at the start of Friday's practice sessions.