Stefano Domenicali says hiring Kimi Raikkonen is not an 'anti-Fernando Alonso' choice
Team Principal sure new pairing can work together
By William Esler
Last Updated: 12/09/13 6:23pm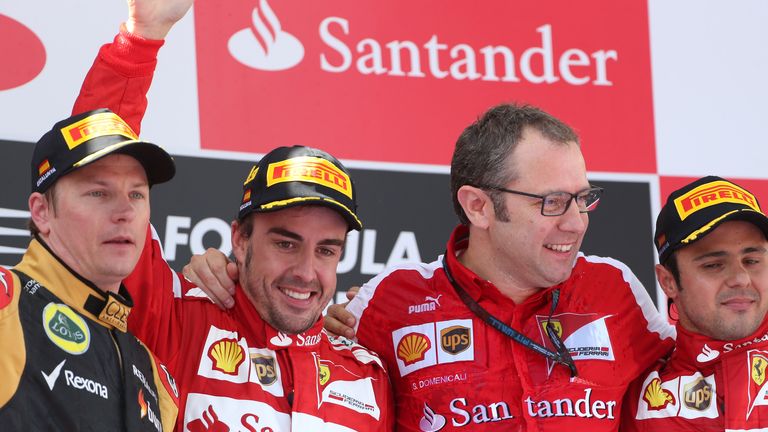 Fernando Alonso is currently the undisputed number one at the Scuderia and some in the paddock have questioned how he will respond to having a strong team-mate alongside him following Raikkonen's appointment.
In 2007, Alonso's relationship with Lewis Hamilton infamously boiled over at McLaren, but Domenicali says anyone expecting a repeat in 2014 are clutching at straws.
"It brings to mind football fans who are scared of rival teams because they have so many strong forwards and so they hope they will fight each other for the ball," the Team Principal told Ferrari's official website.
"For anyone thinking that the choice of Kimi is somehow an anti-Alonso choice, I can put their minds at rest: at Ferrari, everyone knows the interests of the team come first and only then those of the individual.
"Fernando is a key asset for this team and he will be for a long time. I'm sure he is the first to be happy with a choice made to strengthen the group, because he is too intelligent not to realise that a stronger team can only be an advantage."
Domenicali insists both drivers will be given equal opportunity to challenge for the title in 2014 until one has a clear advantage.
"Nothing will change in the way the team is run," he added.
"Since the world began, our drivers have always started on equal terms. It's always been that way and always will. Then, during the course of the season, if the situation is such that one driver can help the other based on the points table, it's logical and right that it should happen.
"It's happened in the past and will happen in the future, as all drivers who have driven a Ferrari have demonstrated. It occurred at the time of [Juan Manuel] Fangio and [Peter] Collins and more recently with [Mika] Salo and [Eddie] Irvine, when the Finn gave up on his only chance of a win in Formula 1 to help his team-mate, as Raikkonen was helped by Felipe [Massa], before repaying the compliment and again with Felipe and Fernando.
"As for the Dream Team, I'm not in the habit of dreaming with my eyes open, as it's not in my nature to do so. I would only say that the combination of Fernando and Kimi is the best one could have today in Formula 1, in terms of talent, experience, competitive spirit and the ability to move car development forward."