Fleet Street have their say on Kimi Raikkonen's move to Ferrari in 2014
British press predicting fireworks next season
By William Esler
Last Updated: 12/09/13 12:18pm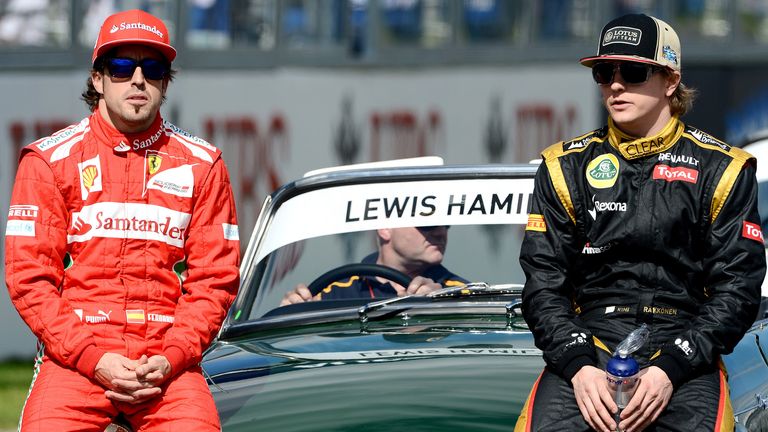 The Finn was finally confirmed at the Italian team on a two-year deal on Wednesday sparking debate as to how the political Alonso and monosyllabic Raikkonen will work together.
The Daily Telegraph's Tom Cary writes '2014 at the Scuderia could resemble a season of Game of Thrones; a bloody battle for supremacy between a hot-headed Spaniard and a cold-blooded Finn, a song of fire and ice cream.
'Raikkonen is very much his own man; unpredictable, and at times uncontrollable, albeit he is less wild than he was in his younger years.
'The 33-year-old is most definitely not someone who will accept being a No 2, although he has helped his team-mates in the past.
'Will Ferrari regret breaking with tradition and employing two No 1s? Their president Luca di Montezemolo said only last year, when playing down reports of a move for Red Bull's Sebastian Vettel, that he did not like to have "two roosters in the same henhouse". He has that now.
'How will Alonso react? The double world champion, signed to replace a lacklustre Raikkonen in 2010, made no secret of the fact that he would have preferred to see Felipe Massa given another year.'
Striking a similar opinion, the Daily Mail's Jonathon McEvoy says 'most observers would expect Alonso to prevail over the course of a season, but wait for the fireworks if Raikkonen betters him more than once in a while.'
In The Guardian, Paul Weaver concurs stating that 'Alonso found it difficult to share the limelight with [Lewis] Hamilton at McLaren. Will he find it easier with Raikkonen? Probably not.'
However, he goes on to add that he feels the arrival of Raikkonen could be the shot in the arm Alonso needs to push him to his maximum.
'The Finn is skilful and fast and, if he is at his best during his two-year contract with Ferrari, he will give Alonso a headache and the sport's followers a rare treat.
'The disappointment among the leading teams is that Sebastian Vettel has been much too good for Mark Webber at Red Bull, Alonso has been a class ahead of [Felipe] Massa and Raikkonen has been too experienced and knowing for Romain Grosjean at Lotus.
'Raikkonen has the experience and speed to keep Alonso honest and may force the Spaniard to up his game in qualifying.'