Stefano Domenicali Q&A: The Ferrari boss's post-Korea GP press briefing
The Italian has his say on a difficult weekend for the Scuderia
By William Esler
Last Updated: 07/10/13 11:13am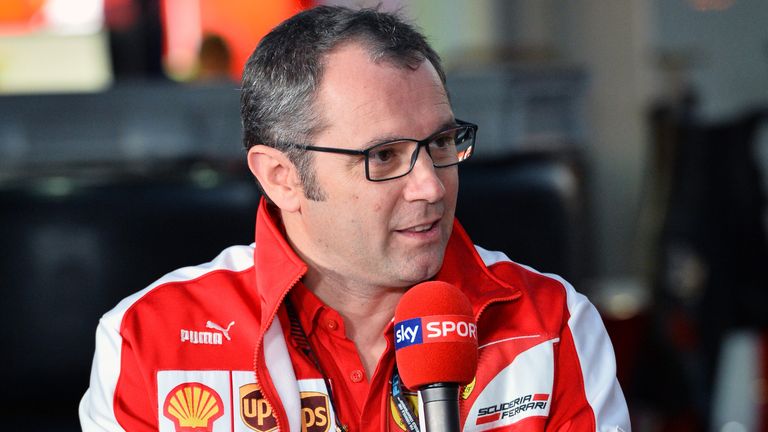 How was the weekend for you?
Stefano Domenicali: "It was not an easy weekend for us. We saw some sign of it on Friday that it would not be a weekend where we were competitive as race pace was not an improvement on qualifying as it had been in Belgium and Italy and Singapore.
"Unfortunately then on Sunday you are always there in traffic and not able to overtake and as we saw we were doing basically the same lap time as the Sauber and Mercedes. Today both Lotus and Sebastian [Vettel] were very strong."
How important is next weekend then for you as Sebastian Vettel can win the championship?
SD: "We will see. I hope it will be less difficult and we need to be positive inside. Today we were not there in a position to take advantage if there was a problem with Sebastian, but maybe next Sunday the situation will be better and maybe the sporting issue will happen to Vettel rather than Mark [Webber] and then we can be closer.
"But we need to be realistic - we know it is almost impossible to win the title so congratulations to him and what they are doing because at the end of the day they deserve that. So that is an extra push and a motivation for our team to try to achieve the level of performance they were able to achieve."
Fernando Alonso was critical of Pirelli and Mark Webber was very critical after the race - you met with Paul Hembery ahead of the race, what is your current feeling about the situation and Pirelli Formula 1 tyres?
SD: "I think it was important to have communication with Paul after these words from Fernando and I think that was important for the relationship and also we are in the same boat and we need to make sure it is not an issue. We need to help them and we need to work together to make sure we get out of this difficult moment."
Ferrari seemed to struggle more than most with tyres during this race - do you think you could have done a two-stop without the safety car?
SD: "To be honest I don't think anyone could have done a two-stop bar maybe the leaders. I believe with the degradation we saw today without the safety car, or such a long safety car, everyone was getting ready for a third stop. I heard some comments during the safety car that some people were talking to the drivers about getting ready for a new set of supersofts at the end, so I think given the race pace today, everyone apart from the leader would have had to do an extra stop."
Paul's response to Fernando was quite heavy handed and he said he should basically 'just go and speak to this soon-to-be four-time World Champion about how to get the tyres to work.' That as I say is quite strong - do you and Paul have a good relationship going forwards?
SD: "We had a meeting to clarify position together with Fernando and he apologised and I think we need to look forward. At the end of the day it is important that the thing needs to be rectified altogether because it is important to hear the frustration of the driver to make sure they can do a better job.
"Also if they are not able to test - that is not correct. You can say 'we are the only team with the facilities to test' but you can spend all your life in the simulator and you will not solve the issue of the tyres. So therefore we have said that they need to test and above all looking ahead to the future with the totally new car we need to help Pirelli and make sure we have some more tests for them, because otherwise I can understand the situation and it is frustrating because they have difficulties to overcome and no possibility to test."
What are your thoughts on the marshalling of the race? They were slow to retrieve the debris from the track, slow to put out the fire on Mark's car and put out the fire car in front of the field.
SD: "Well you know with Mark's car in every place that you go you find yourself in a different situation and of course in Korea - even with the help of marshals from other places - it is not easy to keep up the level of other races in Formula 1. In places like here, where I believe they do not have any races apart from us, marshals are not allowed to on track as they do not know how to react to the situation.
"So it is not an easy situation for race control or for the clerk of the course because you have to rely on people that are willing to do a good job, but it is not easy for them. With regard to the fire car that was on track, there was an extra extinguisher which could have helped on Webber's car and I think maybe there was a misunderstanding at the point that the Safety Car was deployed and when the fire car was put out. I think that is the only explanation that I can see. But of course we normally see a good reaction from the marshal, but we have to remember that they are not used to having these kind of races.
"So it has come out again that we underestimate the kind of professional work that is done by volunteers and their work is fundamental to make sure that we have a good show. And maybe this is something we need to consider as they are training a lot in Italy I can tell you and probably in England as well, but there are other races that they put to shame."
Pre-season testing is supposed to be taking place in Bahrain next year...
SD: "Well not officially yet."
Who is going to take the decision regarding Bahrain and are you sure the political volatility in the area is not going to impact the test?
SD: "For sure a final decision will be taken in the next month because we need to meet and discuss between the teams and see what the final decision is. Of course it is a matter between the commercial agreement and the fact that it is important to have a place that it is hot to see the cars and the condition of the tyres, because if we stay in Europe and it rains, it will be a much more critical situation when we go racing.
"With the political situation I cannot comment because it is not something that I follow and I do not want to say something that is wrong. But if all the conditions are guaranteed then I believe there will be no problems."