Fernando Alonso and Kimi Raikkonen reiterate Ferrari need to keep working hard
Scuderia sixth quickest team during Bahrain Grand Prix
By William Esler
Last Updated: 07/04/14 1:07pm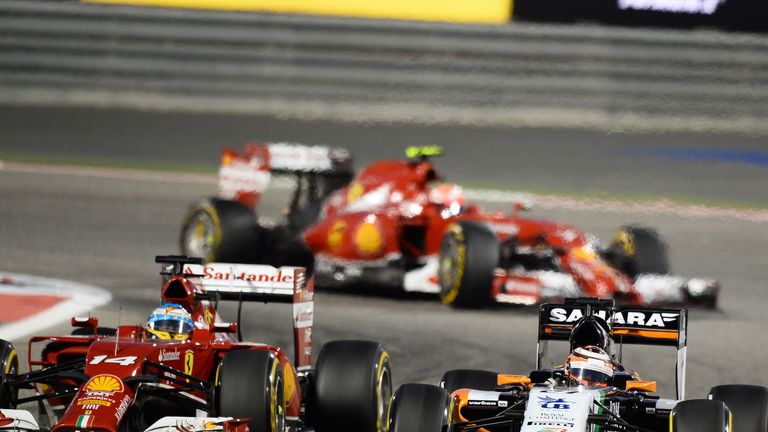 The Spaniard and Finn finished ninth and tenth respectively in the Bahrain GP with the Scuderia appearing to be the sixth quickest team behind Mercedes, Force India, Williams, Red Bull and McLaren during Sunday's race.
After just three races Alonso's hopes of challenging for the World Championship are already fading as he trails Nico Rosberg by 35 points and the 32-year-old has lamented not having the straight-line speed to compete.
"It is not good and obviously we would like to have extra speed and be able to battle with anyone, but at the moment it seems we are missing," the Spaniard told reporters.
"We have some strong points and some other circuits will show our qualities. I think at the next two grands prix we can be quicker than Hulkenberg and the Williams and if you say to them they are missing some of the speed in the corners that Ferrari has they will say yes.
"We will improve in all areas - the chassis, the aerodynamics, the power - we have to plan and we have to deliver some results."
Having started fifth, Raikkonen went backwards in the race picking up just a solitary point as Alonso continued to dominate their intra-team battle.
"The start was really bad and I lost many positions and then obviously from then on it was hard to recover anything," the Finn said.
"I don't know much really, we could have finished ninth probably without the safety car, but you know one place from Alonso doesn't really give us much as a team - we wouldn't have gained anything. Obviously we have quite a bit of work to do and we knew that this was probably going to be the most difficult place for us. I think that there is not much else to say.
"We just don't have the speed overall - we are lacking a bit in a straight-line, we are lacking a bit of downforce. The car is not handling too badly, it is not like there is massive problems with handling, we are just lacking the downforce and the speed and the horsepower, but we knew that and we knew that this would probably be the most difficult place for us. So we will have to see what we can do for the next race.
"It was not the result that we wanted, but I think we still improved things, but we need to keep working. We know what we need to improve but these things are not easy to improve."
Ferrari will have two days of testing in Bahrain ahead of the Chinese Grand Prix to try and improve their car and Alonso will drive on both Tuesday and Wednesday this week.