Ayrton Senna & Ferrari? Di Montezemolo believes link-up would've happened
Ferrari President respected Senna's "incredible will to win"
By Sky Sports Online
Last Updated: 02/05/14 9:12pm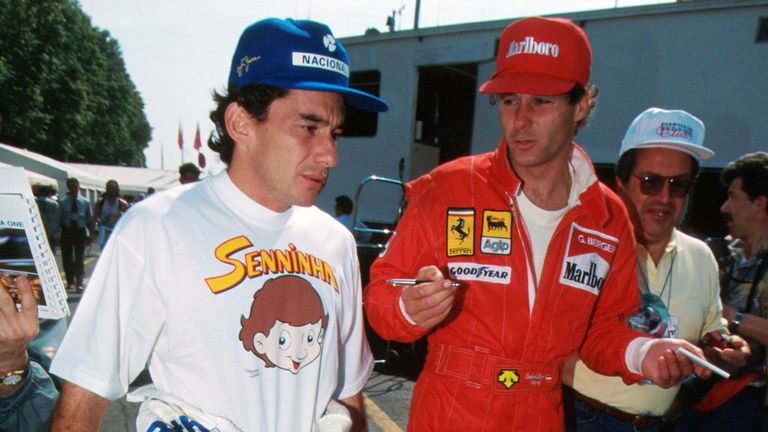 Ferrari President Luca di Montezemolo believes Ayrton Senna would have finished his Formula 1 career at Maranello had the Brazilian not been killed in the 1994 San Marino GP.
With the Formula 1 community preparing to mark the 20th anniversary of the three-times World Champion's death on Thursday, Montezemolo has added to the many fascinating 'what if' theories surrounding Senna by revealing that the pair had talked in the build-up to the Imola weekend about the possibility of the 34-year-old switching to Maranello in future.
After enjoying huge success over a seven-year stint at McLaren, Senna had joined reigning World Champions Williams for 1994, while Ferrari were already 15 years into their long Drivers' Championship drought. Two years later the Scuderia signed Michael Schumacher, the sport's newly-crowned double World Champion, to spearhead their return to glory, with the title finally returning to Ferrari in 2000.
"He wanted to come to Ferrari and I wanted him in the team," Montezemolo said in a tribute to Senna posted on Ferrari's website.
"When he was in Italy for the San Marino Grand Prix, we met at my home in Bologna on Wednesday 27 April. He told me he really appreciated the stand we had taken against the excessive use of electronic aids for driving, which didn't allow a driver's skill to shine through.
"We spoke for a long time and he made it clear to me that he wanted to end his career at Ferrari, having come close to joining us a few years earlier. We agreed to meet again soon, so as to look at how we could overcome his contractual obligations at the time. We were both in agreement that Ferrari would be the ideal place for him to further his career, which to date had been brilliant, even unique. Unfortunately, fate robbed all of us of Ayrton and Roland Ratzenberger over one of the saddest weekends in Formula 1 history."
Although never getting the chance to work directly with the great Brazilian, Montezemolo revealed he was a fan of both Senna the driver and the man.
"Of Senna, I remember his kindness and his simple almost shy nature, which was in complete contrast to Senna the driver, a fighter always aiming for the best," the Italian, who became Ferrari President in 1991, explained.
"I always appreciated Ayrton's style of racing. As with all great champions, he had an incredible will to win and never tired of seeking perfection, trying to improve all the time. He was extraordinary in qualifying, but also a great battler in the races, when he always fought tooth and nail."
Ferrari's 2014 driver line-up of Fernando Alonso and Kimi Raikkonen are attending Thursday's Senna memorial service at Imola as the circuit holds a four-day tribute event for fans.