James Allison hails Fernando Alonso and Kimi Raikkonen despite contrasting starts
Ferrari chief says struggling Kimi has "class written all over him"
By James Galloway
Last Updated: 07/05/14 12:17pm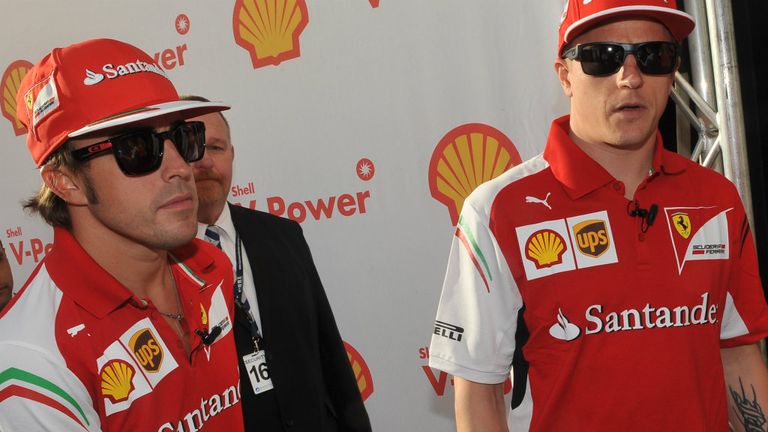 What during the winter had been an eagerly-anticipated match-up between two of F1's biggest and most successful names has so far failed to ignite in 2014 with Alonso having conclusively got the better of Maranello returnee Raikkonen over the season's opening flyaway rounds.
While Alonso has scored 41 points and Ferrari's only podium finish so far, Raikkonen has collected a measly 11 points. After finishing nearly a minute behind his team-mate last time out in China, the Finn conceded his side of the garage had "a lot of work to do" to get him more comfortable with the F14 T.
But while praising Alonso's performances, Allison, Ferrari's chassis chief, also hailed the amount of work Raikkonen is putting in with the team.
"With Fernando we've seen an extraordinary level of performance, scavenging every possible point at every possible opportunity," the former Lotus man told Ferrari's website.
"Kimi is working extremely well with the team, collaborating with the engineers, helping us to drive this car forwards. He has class written all over him and in a very short space of time, I'm sure we will also see the results of that on the track."
Although Ferrari emerged as Mercedes' closest, albeit distant, challengers in Shanghai as Alonso returned to the rostrum, the layout of the circuit was thought to have aided the team - who just a fortnight before had finished ninth and tenth in Bahrain - given it doesn't place a premium on rear-tyre wear, one of the F14 T's weaker areas.
Allison thinks the team did make overall performance gains in China but admits judgement on the car can only be made in the longer-term.
"Where did we see the real performance level of the car? Bahrain or China?" he added. "It's a mistake to think in those terms, because it wasn't the same car at the two tracks. Between those two races, we improved the car quite substantially, so not only did the track characteristics change, so did our car.
"We are learning how to get performance out of this new set of regulations and hopefully to make this car more competitive.
"The key to a successful season is to keep improving your car at every race. If we can do that, bringing a meaningful amount of performance to every one of those races, we will keep seeing steps forward. And that will define what is the true F14 T, not just one single race."
This weekend's Spanish GP, which will be broadcast live on Sky Sports F1, marks the one-year anniversary of Ferrari's last grand prix victory - the longest spell F1's most successful team have gone without a win since their four-year drought of 1990-1994.