Luca di Montezemolo says he's keeping a close eye on Marco Mattiacci
Ferrari President hopes to stay "very, very close" as new team boss undergoes "full immersion in Formula 1"
By Mike Wise at Circuit de Catalunya
Last Updated: 09/05/14 6:43pm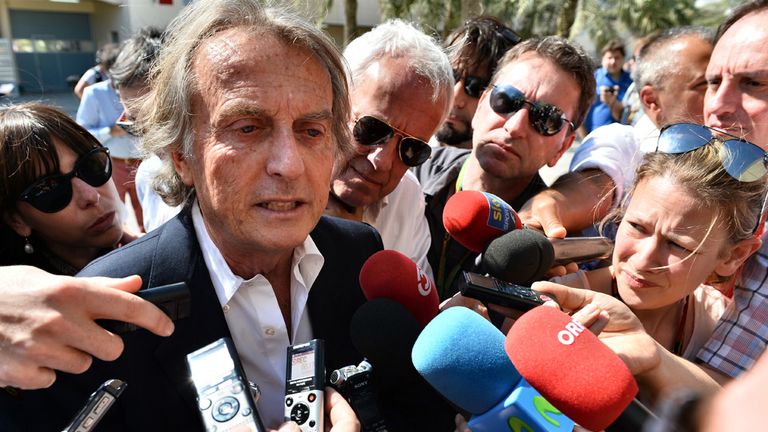 Speaking at the Spanish GP on Friday, Montezemolo likened Mattiacci's promotion to that of Jean Todt, who presided over Ferrari's most successful era despite having no F1 experience when he took over.
Sitting alongside Mattiacci, who remained silent throughout the press session, the 66-year-old also drew comparisons with his own promotion to the role of Ferrari team manager - which also brought title success with Niki Lauda - back in 1973.
Little was known about Mattiacci when Montezemolo handed him the job after Stefano Domenicali's resignation last month, although he has built a strong reputation within Ferrari/FIAT having most recently run its North American road car operation.
"When I was called by Enzo Ferrari, I was passionate but not an expert," Montezemolo said.
"[Matticacci] knows how to run the company, how to handle the group - this is very important. Now he has to do a full immersion in Formula 1.
"I don't ask him to become a technician or expert in aerodynamics, or engine or suspension.
"In doing this, I'm doing exactly what I did in 1992 when in July, Jean Todt came and I hired him as a team manager.
"For three, four, five months, I was very, very close to him because he was an expert on rally and then endurance racing but completely inexpert on Formula 1.
"I'll try to do the same - also because it has to be clear that I'm not happy where Ferrari is, not at all. I did not expect a team less competitive than my expectations at the beginning of the season."
Ferrari, which this week played down the visit of their highly-successful former Technical Director Ross Brawn to their Maranello headquarters amid lingering speculation that the Briton could yet return to the team, currently sit fourth in the Constructors' Championship and this weekend's race marks a full calendar year since their last victory.
Fernando Alonso and Kimi Raikkonen struggled to finish in the points the last time Montezemolo visited a race in Bahrain, although they ended Friday practice in Barcelona a more respectable fourth and fifth fastest.
Ferrari are still clearly well off the pace set by Mercedes, but Montezemolo said he expects improvements by next month's Canadian GP.
As for the longer term, he said: "We have to be very, very clear where are the problems, why we're not competitive and to improve the situation as soon as possible without losing our calm, by maintaining calm and having clear in front of us what our short-term goals, medium-term goals and long-term goals.
"I'm sure Ferrari has all the capabilities, all the opportunities to go back to the victory."
Montezemolo also said the visit was a "sentimental" one for him, as it was in Barcelona that Michael Schumacher scored his first Ferrari win back in 1996.
With the seven-times World Champion still lying in a coma following his skiing accident last December, he added that Schumacher "has done a lot for Ferrari and we look forward to seeing what he will do for himself in the future and we are confident that we are very close".