Red Bull's Adrian Newey coy over whether his long-term future remains at Red Bull
Design guru through to be at centre of fresh Ferrari approach
By Pete Gill
Last Updated: 11/05/14 3:57pm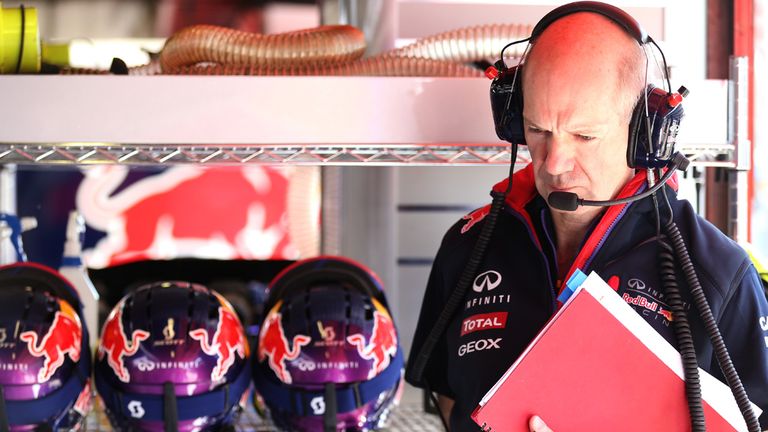 It's understood that, bereft of a win in over a year, Ferrari have made a new offer to Red Bull's resident technical genius. Newey is widely considered to have been the critical ingredient in Red Bull's four successive title doubles having previously designed championship-winning cars for McLaren and Williams.
Newey has previously rejected overtures from Ferrari in favour of remaining in England, where his children are schooled, but it's reputed he has been invited to name his own price to join the Scuderia as F1's most famous marque plot a return to winning ways and quell Fernando Alonso's mounting dissatisfaction.
However, when asked by Sky Sports F1 prior to the Spanish GP whether he expected to see out his career at Red Bull, Newey coyly replied: "I don't know. I need to think about it. We're in the middle of the season and I'm just getting on with it."
In a separate interview with Sky F1 after the race, won by Lewis Hamilton ahead of Mercedes team-mate Nico Rosberg, Newey maintained that ambiguous stance, declaring:
"At some point I am going to have to think about the future, but at the moment my focus is getting in front of the silver cars," he said.
Although Newey remains under contract at Red Bull, it is unclear how long is left on the Englishman's current deal. Pressed for details on Newey's contract, Red Bull chief Christian Horner likened the question to "asking a lady about her age".
Horner himself has previously been linked with Ferrari and says he is confident that Newey will opt to remain with the Milton Keynes outfit.
"A lot of approaches are made to our staff, but he enjoys the environment at Red Bull and he has always said he would like to finish his career at Red Bull. The team have a great relationship with Adrian," Horner said.
"For sure, the lure of Ferrari is always there, but there's the politics and the pressure that goes with it and the fact is in Italy. Lots of us have been linked with Red Bull but so far none of us have gone."
Yet.