Adrian Newey rejects Ferrari by committing his 'foreseeable future' to Red Bull
Scuderia will now reputedly switch attention to Sebastian Vettel
By Pete Gill
Last Updated: 23/05/14 6:02am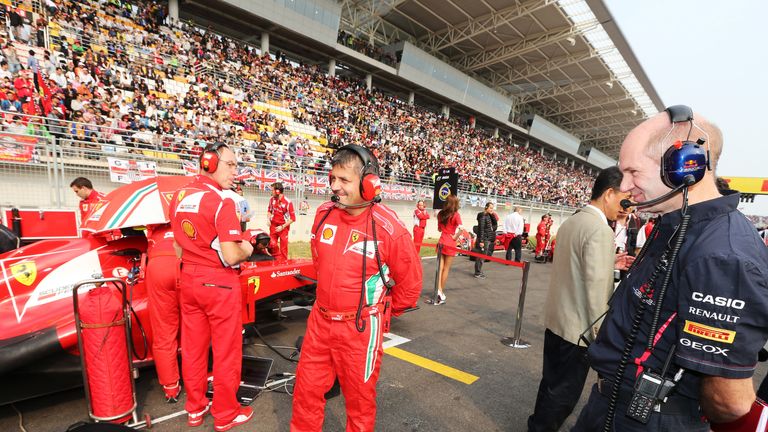 Newey had been identified as Ferrari's number one target following a wretched start to the 2014 campaign which has seen the team score just a single podium finish and their all-champion line-up of Fernando Alonso and Kimi Raikkonen struggle to get to grips with the misbehaving F14 T.
Yet despite a name-your-price approach from Ferrari - long-time suitors of the Englishman - and the enticing opportunity to inspire a return to winning ways for the most famous marque in the sport, Newey has opted to remain with the reigning World Champions.
"I remain committed to Red Bull for the foreseeable future," Newey confirmed via a Red Bull statement.
While a commitment to the 'foreseeable future' carries a note of apparent ambiguity, it's understood that Newey's existing deal with Red Bull still has years rather than months to run.
Nor is there any suggestion that Red Bull have failed to commemorate his birthday.
A title-winning designer with three different teams, and universally recognised as the technical genius par excellence within the paddock, Newey's recommitment to the Red Bull cause is the most welcome news of the year for a team that have surrendered their position at the pinnacle of F1 to Mercedes this season.
"It is absolutely no secret that Ferrari approached him and there's no downside for Adrian in this - it's going to up his ante in his income and his position at Red Bull, which is most likely to have happened," noted Sky F1's Martin Brundle.
"Christian Horner has been extremely smart in attracting Adrian to the team and then making him feel supremely comfortable. That will be a key element here: whether Adrian wants to stay in that bubble of a comfort zone where he's in charge completely over a team that's together or whether he wants to go and take the risk of moving to Italy."
Yet while Newey's future has been settled, the F1 rumour mill remained in full swing as the sport settled down to its showpiece event of the year in Monaco. Amid ongoing speculation that Alonso may seek a way out of Ferrari at the end of the season, Ferrari are reputed to have switched attention from luring Newey out of Red Bull to signing World Champion Sebastian Vettel.
As with Newey, Scuderia have approached Vettel before to no avail, but according to The Times, 'there are signs that [Ferrari President Luca di] Montezemolo may be able to lure Vettel into the Scuderia's fold, perhaps as soon as next year.'
Vettel's Red Bull contract runs to the end of next season.