Fernando Alonso hopeful over Ferrari's Canada upgrade and says they'll 'get stronger'
Spaniard says Scuderia need "perfection" for strong Montreal
By James Galloway in Montreal
Last Updated: 05/06/14 7:29pm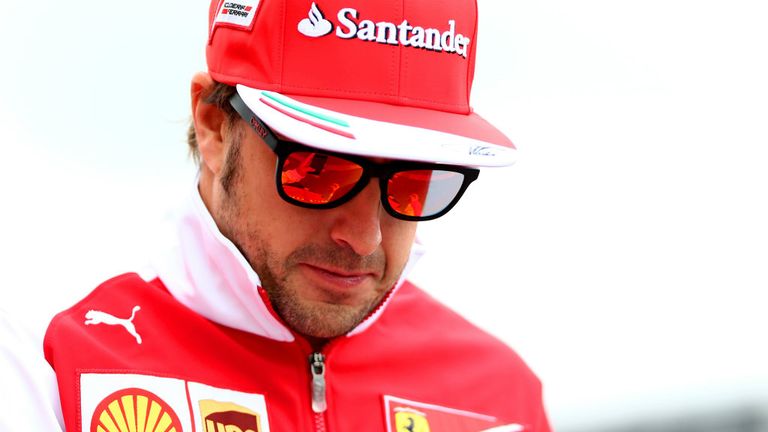 The Scuderia, like all of those teams with aspirations of catching runaway championship leaders Mercedes, continue to work hard to improve their 2014 car and to that end will unveil a raft of changes to the F14 T's aerodynamics and power unit in Montreal.
Alonso says while the updates have been tested successfully during simulations in recent weeks at their Maranello base, they now need to perform in reality, with "perfection" also required in the team's execution of the race weekend.
"There are some updates coming to the car which we've been working some weeks [on] and we've been testing in the simulator quite a lot, also after Monaco," the Spaniard told reporters on Thursday.
"We now need to see these hopes on the track. It's a circuit that we're running 1:15, 1:16 so it's one of the shortest circuits and we expect the times to be really close, one second between 15 cars or whatever.
"So we need to find perfection because one or two tenths can be six or seven positions and we need to be in front of this."
The changes to Ferrari's turbo power unit are thought to be particularly wide-ranging for this weekend and the nature of the Circuit Gilles Villeneuve makes them timely too, given the track is one of the most power dependent on the calendar.
Alonso concedes the layout may not be particularly beneficial for the F14 T but is optimistic his and Ferrari's strong record together at the circuit of two podiums and, more unusually, three top-three grid berths, can negate any disadvantage.
"It's going to be a tough weekend. Obviously the track is again dominated by the power effect, unlike Barcelona and Monaco that were completely different characteristics," Alonso said.
"I'm sure that it's not going to be easy this weekend but on the other side I like the track, we've performed quite well the last four years here with the team, so I expect to do a good weekend anyway and have good points at the end of the race."
The Spaniard, a winner in Montreal for Renault in 2006, wasn't ruling out just a second podium finish of 2014 but reiterated that Ferrari had to leave no performance on the table at any stage of the weekend.
"I don't know really. The podium is a very ambitious target and obviously we need to be optimistic because it is only Thursday so we need to believe in ourselves," the 32-year-old said.
"But let's go step by step first: doing a good practice, trying to validate the new package and trying to see if we confirm the good hopes we have. With Qualifying it's important to maximise everything because there are many cars in a very narrow window over a timed lap. Then in the race, this in the past has been quite a good race for us, we had good pace in the race, and we need to confirm this [again].
"If we can be on the podium is fantastic, if not, [the target is] to score as many points as possible."
Even if Ferrari's Montreal upgrade does prove sizeable, however, it is unlikely to be enough to topple dominant Mercedes in normal conditions, the Brackley outfit favourites to continue their unbeaten start to F1's new era this weekend.
Although Alonso sits third in the Drivers' Championship, he trails both Mercedes drivers by more than the points equivalent of two race victories, while Ferrari are a massive 162 points adrift in the constructors' standings. However, the two-times World Champion insists the team's focus won't yet be shifting to the 2015 car and they will only continue to improve under "very clever" Mattiacci's leadership.
"Whether these updates provide us the result we want, or we don't, we just need to keep working in both sides," he argued. "This year because we need to keep fighting for important things, second place in the Constructors' Championship and all the targets that we want to achieve, and then for next year.
"In a way we cannot do something this year that compromises next year's time with the car. We have to keep developing in 2014 because many things you carry on for next year's car, but if there's something fundamental that requires a lot of time on the 2015 project obviously we need to take time on that project.
"I'm not worried to be honest. From the arrival of Marco Mattiacci I think it's moving in the right direction. He has good vision, a good and very clever approach and either for this year or for next year we're just going to be stronger and stronger."