How much more pain can Red Bull give Mercedes in Formula 1 2017?
Mercedes just third fastest in Malaysia; Less than a week before next Sunday's Japanese GP; Mercedes admit they're worried
By Pete Gill
Last Updated: 10/10/17 11:39am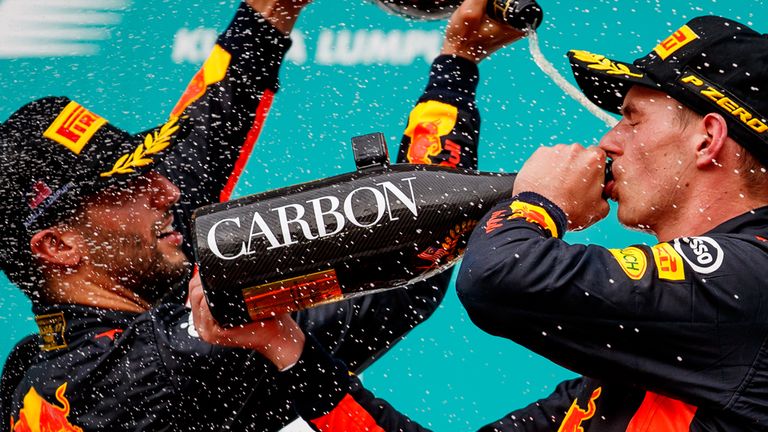 Red Bull could cause Mercedes some serous "pain" before the end of the season, according to the Sky Sports F1 pundits.
Although Lewis Hamilton has extended his title lead over Sebastian Vettel to 34 points following the Malaysia GP with five races remaining this year, the Silver Arrows suffered an inexplicable loss of performance at Sepang - the second race in a row in which they have been behind both Red Bull and Ferrari.
Drivers' Championship Standings
| | | |
| --- | --- | --- |
| Driver | Team | Points |
| Lewis Hamilton | Mercedes | 281 |
| Sebastian Vettel | Ferrari | 247 |
| Valtteri Bottas | Mercedes | 222 |
| Daniel Ricciardo | Red Bull | 177 |
| Kimi Raikkonen | Ferrari | 138 |
| Max Verstappen | Red Bull | 93 |
"Mercedes were the third quickest car here and go to Japan with big question marks," summarised Sky F1's Ted Kravitz.
Hamilton said his car, previously described as a 'diva' by Mercedes, was saddled with "big problems" while team boss Toto Wolff said he was "very down" about their form.
The world champions now have less than a week to solve the mystery of their performance loss ahead of next Sunday's Japanese GP.
"They were struggling in Singapore and they got lucky with the first corner shunt," said Sky F1's Martin Brundle. "They were struggling for pace here and that's why I think Lewis is a little bit downbeat about it.
"It's been quite a big turnaround and if Ferrari didn't keep stepping on their own tails so much at the moment, they'd be in with a great chance for this world championship. Instead now they'll have to fight for it, and they key is can Raikkonen take points off Hamilton in the remaining races and can Vettel have a clean weekend?"
Mercedes alarmed by unexpected slump
WATCH: Verstappen overtakes Hamilton
Hamilton: We've got big problems
While Ferrari have suffered a series of reliability issues recently, the Scuderia have boasted superior pace to Mercedes in both Singapore and Malaysia while Mercedes' frustration and concern heading to Suzuka will be compounded by the unexpected performance surge from Red Bull.
"We can be on their level at a least one more race this season," predicted Daniel Ricciardo after finishing alongside race victor Max Verstappen and Hamilton on the podium.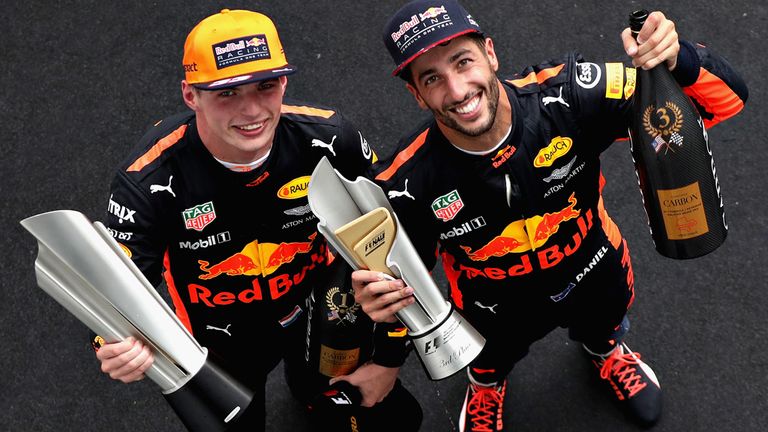 And Brundle warned: "The championship is not over yet. Lewis knew he had a big opportunity to really gap to Vettel and he wasn't able to take it.
"The Ferrari just plain looks faster than the Mercedes at the moment and the Red Bulls are right in there too. They should be mighty in Suzuka. Red Bull might be able to get between Ferrari and Mercedes and add some pain in there."
According to Hamilton, Mercedes calculated Ferrari were around eight tenths of a second a lap faster at Sepang with Red Bull also half a second ahead.
"I didn't expect to win here and be faster than the Mercedes," admitted Verstappen after only his second F1 race victory.
"To beat Mercedes fair and square was beyond our expectation," added Red Bull Christian Horner. "I thought we had a great race car but I didn't think it was going to be quite that great."
Hamilton's closest championship rival, Sebastian Vettel, finished fourth behind Ricciardo, but remained encouraged by the speed of his car as he surged through the field from last on the grid.
"We have a very quick car," said the Ferrari driver. "If we start ahead then we win the race. I think we were the quickest car for the majority of the race but we had to start from last!"
A downbeat Wolff acknowledged: "If you look a the real pace today, it would have been P5. That is worrisome. We should have been quicker than we were."
Thank you to the fans here in Malaysia, I'll miss racing at this great circuit. Congrats and happy birthday, Max. Looking forward to Japan! pic.twitter.com/x9HR0uLKTw

— Lewis Hamilton (@LewisHamilton) October 1, 2017