Driver reaction: Jerez day three
Your one-stop destination for driver reaction to the third day of testing in Southern Spain...
Last Updated: 10/02/12 9:12am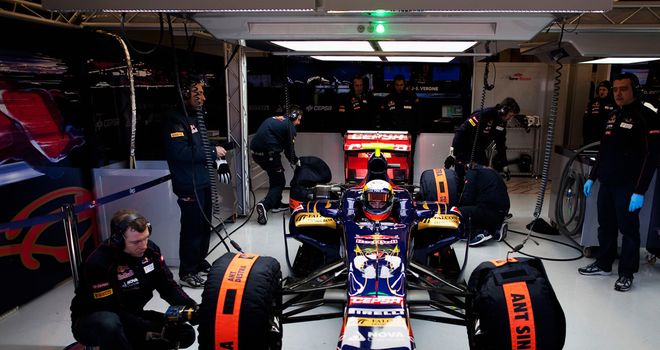 Your one-stop destination for driver reaction to the second day of testing in Southern Spain...
Red Bull's Sebastian Vettel: "It's been two months since we were in the car, so it does take a couple of laps to get back in the rhythm, but the car feels fine and as we expected. There's quite a loss of grip due to the regulation changes, but you get used to it quickly and then start to explore how the new car feels. So far we can be happy, we had a couple of issues, but it's normal when the car is new."
Mercedes' Nico Rosberg: "I'm happy with the testing that we have achieved here in Jerez, and we learned a lot about the Pirelli tyres and a few other things for the new car. It seems that the tyres are closer performance-wise this year, with the rear tyres also looking a bit stronger. Pirelli have done a good job so far. You can't really compare the lap times with other teams, but it was interesting to learn a lot with our 2011 car. Now I'm really looking forward to the two Barcelona tests with our new Silver Arrow."
Force India's Jules Bianchi: "I made a small mistake on my second run. The tyres were a bit cold and I spun into the gravel and touched the wall with the right rear wheel. It was not a very big impact, but it caused some damage. I'm very sorry because my mistake has cost the team a lot of time and effort. Going away from here I want to focus on the positives because we had a very good day yesterday and I've really enjoyed working with the team this week."
Williams' Bruno Senna: "It was a great day today. Although there is a lot of work to do outside the car as well as in it, it was very satisfying to finally get behind the wheel. We have had a very productive day and managed to cover all of the things we needed to. We found some interesting things out about the tyres in particular. I feel that there is a lot of potential in the FW34 and also in myself driving the car. The team has done a great job and I'm happy we have had a trouble-free day. I'm now looking forward to continuing our test programme tomorrow to learn more about the car."
Toro Rosso's Jean-Eric Vergne: "My first feeling when I got in the cockpit was a positive one. The car seems to have a good base from which we can progress over the winter tests. In general, it was a positive day for me and the team and I am happy with the work we got through. I still need to work on my seating position in the car to make it perfect and I'm looking forward to making more progress tomorrow. Was it a special feeling knowing this is "my" Formula 1 car for the season? I preferred to concentrate on the work side of things and put the extraordinary aspects of the job to the back of my mind."
Sauber's Sergio Perez: "It was a difficult day for us but the important thing is that we are improving. Every step we took went in the right direction. Kamui has another day of testing here tomorrow. Obviously he will have an intense programme and I hope we can finish the Jerez test with a productive day."
Caterham's Giedo van der Garde: "That was a good day. I'm happy because I put in a lot of time in the car and that was the first time I've been on track since Monza last year, so I had to spend a bit of time this morning getting back into the groove, but that came pretty quickly and then we got down to work. I'm very pleased because by the end of the day I was getting starting to get used to all the new things about F1 - there's a lot to learn but I know what I need to focus on so next time I'm in the car I'll definitely be able to get on the pace more quickly.
"There are a couple of real areas that I know I can work on - the first being the brakes. I'm used to a stiffer pedal on the GP2 car so I had to adapt my style a bit to get used to the F1 car, but that came quite early. The other area is getting the most out of the new tyres. The quickest lap time is pretty much straight out of the box and that means being on it as soon as you leave the pits. We used both DRS and KERS today and I felt pretty comfortable with both. DRS started to come naturally by the end of the day and with KERS there's more to come. Jarno will be working on maximising that tomorrow so I think the team will have more for me to work through on that system next time I'm in the car.
"Basically I enjoyed myself today. The team has been great with me - the engineers and the mechanics have all been working really hard to help me acclimatise, so thanks to them for today and now I'm looking forward to my next run."