Vettel: So far, so happy
World Champion Sebastian Vettel has expressed his happiness with his new car after returning to work on Thursday for pre-season testing at Jerez.
Last Updated: 09/02/12 6:24pm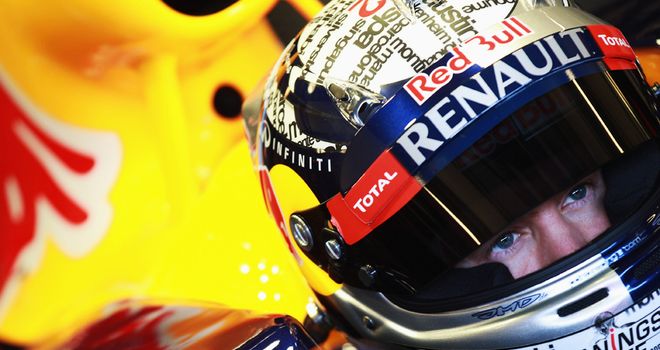 World Champion Sebastian Vettel expressed happiness with his new car after returning to work on Thursday for the third day of pre-season testing at Jerez.
The Red Bull driver finished third in the timesheets with a best lap of 1:19.297s and enjoyed the luxury of a trouble-free day as he familiarised himself with the RB8.
"It's been two months since we were in the car, so it does take a couple of laps to get back in the rhythm, but the car feels fine and as we expected," said Sebastian.
"There's quite a loss of grip due to the regulation changes, but you get used to it quickly and then start to explore how the new car feels. So far we can be happy, we had a couple of issues, but it's normal when the car is new."
Vettel completed 96 laps in all and was on the pace quickly despite cold conditions that left runners struggling for grip.
Neither were they helped in that regard by new rules that outlaw blown diffusers, although Vettel said he had no problem changing his driving style to adapt.
Slippery
"I think it's fairly easy to explain: there's less grip, so it doesn't allow us to go so quickly in the corners - it doesn't allow the tyres to work as good as they used to," he said.
"Also you need to see that now it's quite cold. Last year we had quite a lot of trouble in testing getting the tyres to work, and then during the season it was much better.
"There is no reason to panic, but it's more slippery and you have to work a little bit differently to adapt your driving style a bit."
Vettel also reckoned that there would be no standout development concepts this season such as the double diffuser and the blown exhaust, around which Red Bull developed their two previous cars.
"It's attention to detail - I don't think there's any big secrets," he said. "We will find out. If you look at all the cars, they are slightly different, yes, but there's nothing revolutionary.
"Now we'll wait for the Mercedes...but at this stage it's clear it's very tight again - if not tighter."
It's believed that, far from concerning himself with lap times, Vettel spent most of Wednesday working through a range of heavy fuel loads on race-simulation runs. "We know this because he is not using his DRS on the straight, as others are doing when testing performance," explained Sky Sports' Ted Kravitz.
Though the team have yet to finish at the front on any of the three days of winter testing so far, all the signs so far from the Red Bull camp are encouraging. Or, if you're a rival, ominous.