Vettel explains Q3 abandonment
Sebastian Vettel has confirmed that he abandoned his final lap in qualifying for the Spanish GP order to choose his tyre strategy.
Last Updated: 12/05/12 5:31pm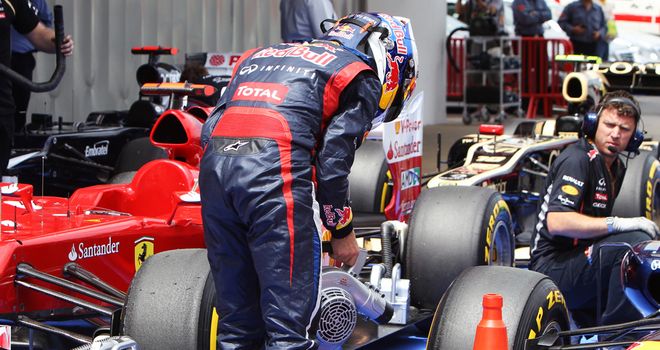 Sebastian Vettel has confirmed that he abandoned his final lap in qualifying for the Spanish GP in order to choose whether to start Sunday's race on hard tyres.
In a set of comments that are bound to prompt fresh controversy about the level of importance tyres have taken this season, Vettel's admission amounted to a confession that the World Champions effectively withdrew from the shoot-out for tactical reasons.
"There is nothing is wrong," said Vettel, who will line up in eighth place after neither Michael Schumacher nor Kamui Kobayashi set a time in Saturday's final segment. "We decided to abort the lap to have a free choice of tyres for the race. If I had set a lap, we would have to start the race on soft tyres.
"In Q2, the first run was crucial. I didn't manage to pull a lap out so I had to use my final set of tyres to get into Q3. We simply weren't quick enough."
The failure of Vettel's team-mate Mark Webber to make it past Qualy Two might have indicated that Red Bull lacked the ultimate pace to challenge polesitter Lewis Hamilton, but the sight of the German cruising around at the start of Qualy Three, setting sector times to ensure he started ahead of Kobayashi, forced out of the session by a hydraulic leak, was far from endearing.
Vettel admitted he was surprised by the loss of pace, having earlier set the fastest time in the third practice session, and complained of a lack of grip.
"We are not sure why in the afternoon we potentially lost quite a bit against ourselves. That's pretty unclear at the moment. I think we had a decent pace and a decent feeling in yesterday's practice and this morning as well. It seemed to vanish in Q1," he said.
However, Vettel said he and the team had yet to decide for certain whether or not to start on the harder tyre and run a longer opening stint against the cars starting ahead, which must all use softs.
He insisted Red Bull had set out at the start of the afternoon to claim pole and may yet have the last laugh on Sunday with the right tyre strategy.
"We'll see how it goes for tomorrow. We were a bit surprised how much of a step the others could do, but I'm quite confident for race. We always have a good race car. We have a couple of new sets which has proved successful for others in previous races this year," Vettel added.
Webber, who lines up 12th, put his early departure down to a simple misjudgement after Red Bull failed to send him out for a second lap in Qualy 2 as track conditions improved.
"We had a pretty straightforward session, everything went to plan until everyone went too quick, bascially. That's about it," the Australian said.
"I think in Q2 it was just how much the track was improving - and it was something that caught us out. Ultimately my first lap in Q2 was very competitive - P2 to Lewis - that one-tenth-of-a-second was enough to cost us a front row.
"As soon as I arrived back, they said 'Mark, fantastic lap. That's it, get ready for Q3'.
"And then with about 60 seconds to go, I started to sh*t myself and that was it."