Christian Horner welcomes Sebastian Vettel's public denial of Ferrari pre-contract
Red Bull chief hopeful relationship will continue "for many years"
Last Updated: 29/10/12 11:58am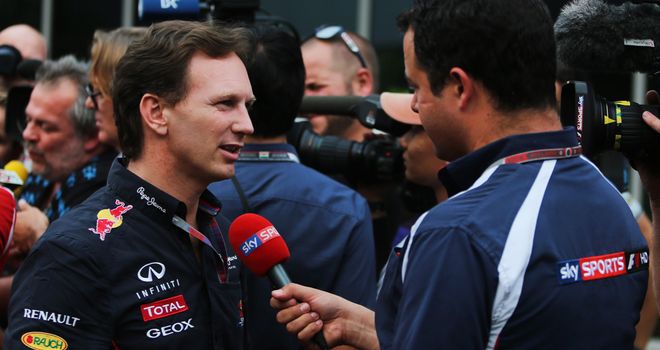 Speculation that the reigning World Champion was bound for Red Bull's current title rivals in 2014 had resurfaced in recent weeks despite the team having rubbished the rumours on previous occasions.
However, speaking in an interview with Sky Sports F1 at the Indian GP, Vettel denied point blank that he had any agreement in place to switch to Maranello - a stance he later repeated in even more blunt terms in the post-race press conference.
Speaking after Vettel's angry dismissal of the rumours in wake of the German's fourth straight victory on Sunday, his team boss welcomed the 25-year-old's words given that further speculation could have caused anxiety inside the Milton Keynes-based squad.
"Sebastian and the team have a very strong relationship," Horner told reporters.
"We both know exactly where we stand now and for the future. Of course all members [of the team], they read the media, they read the internet and so it was important to dispel any speculation that he may be going elsewhere. I did that on the day that the rumours were circulated.
"Sebastian's been with Red Bull since he was 12 or 13 years of age. He's achieved all his grand prix victories in Red Bull-designed cars, he's very happy being part of this team and he's an important part of this team. Hopefully that will continue for many years to come."
The first chance Ferrari, or any rival team, would have to try and sign Vettel would appear to be 2015, Red Bull last year having announced they had renewed the German's contract until the end of 2014.
Asked if he expected Vettel to sign his next F1 contract with Red Bull as well, Horner replied: "I can't think of any driver that wouldn't want a contract with Red Bull at the moment."