Red Bull's Christian Horner said the decision to suspend qualifying was the right one
Red Bull team boss backs qualifying postponement
By Mike Wise in Melbourne
Last Updated: 16/03/13 10:19am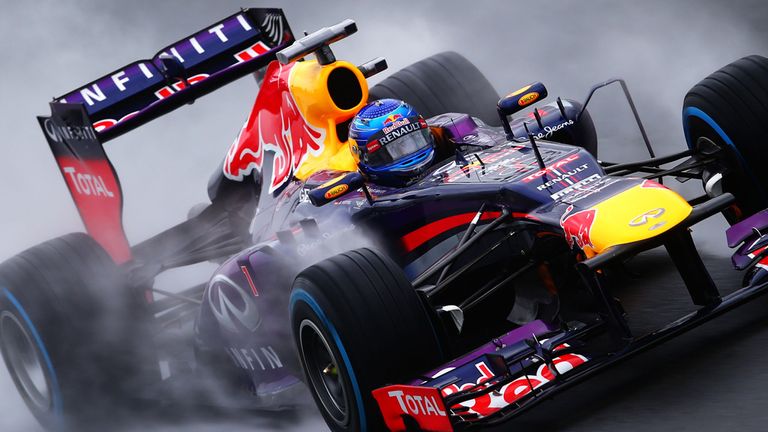 With strong winds further hampering conditions, a series of delays eventually led to a postponement of qualifying almost two hours after it was supposed to have started.
The weather eased sufficiently for the first session to take place but with darkness by now descending upon the track, stewards eventually decided to postpone Q2 at 6.47pm local time.
Teams must now return at 11am on Sunday morning (midnight UK time) with the race due to start six hours later.
"It's a shame because of the weather but absolutely the right decision was made to stop the qualifying - or postpone it for tomorrow," Horner said.
"The conditions are just deteriorating too quickly, particularly with the daylight and too much standing water. So hopefully this will blow through tonight and we'll be back in the morning."
Mercedes driver Nico Rosberg was fastest in Q1, with Red Bull's Mark Webber and Sebastian Vettel respectively fifth and seventh in a session that saw plenty of incident as drivers struggled to cope on a track which had standing water in places.
Horner defended the decision to make teams return to complete the final two sessions rather than use the Q1 times to decide the starting grid.
"I think it would be unfair to do that because you navigate your way through that first session. It's not about purple sectors in that first session, it's about surviving it," Horner said.
With a smile, the team boss of the World Champions added: "A fairer way to do it would be on car number."
With cars now under parc ferme conditions, Horner said his team would do their best to cope with the rejigged schedule.
"I think the drivers will certainly take it in their stride; I think it's more for the technicians. Obviously the car is new and effectively having less preparation time between qualy and the race adds a bit of pressure," he added.
"But it was absolutely the right decision to take and I'm sure, as we've seen before, it shouldn't be too much of a drama."
The last time qualifying was postponed until race morning was at the 2010 Japanese Grand Prix, which also suffered six years earlier when a typhoon blew through Suzuka on the Saturday.
Sky Sports F1's Australian GP coverage
Qualifying (Q2 and Q3): Saturday night from 11.45pm - Live!
2013 Australian GP: Sunday morning from 4.30am - Live!