Red Bull's Christian Horner was happy with Sebastian Vettel's third place in Australia
Team boss says set-up and cold weather to blame for race slide
By Mike Wise in Melbourne
Last Updated: 18/03/13 6:31am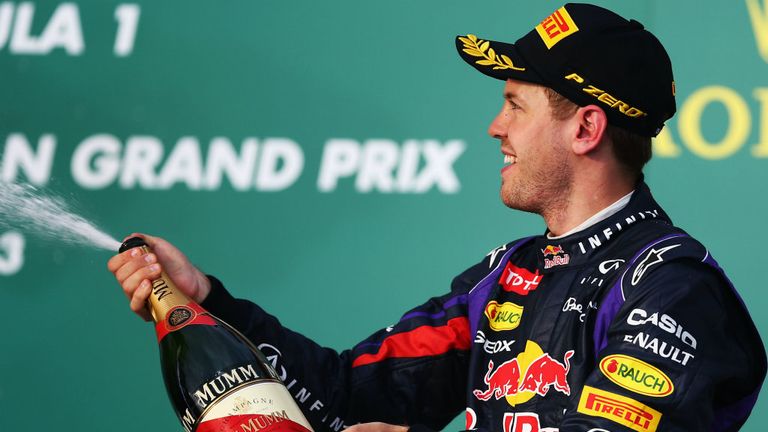 Vettel had appeared odds-on to start his title defence with victory in Albert Park after comfortably claiming pole position earlier on Sunday. Come the race, however, and he was found wanting.
Speaking afterwards, Horner blamed his charge's problems on a combination of an aggressive set-up and the cooler-than-expected weather conditions.
"We just weren't in the optimum window with the tyres today. I think that, for whatever reason - the conditions and so on - we were just a bit out on the set-up or whatever for the tyres in these conditions," he said.
"It was fairly apparent from lap four or five. Seb got a good start and built the lead that we wanted. And then it was clear that the car was pretty heavy on the tyre.
"All things considered, third place was actually a very, very good result."
Unable to shake off the Ferraris of Felipe Massa and Fernando Alonso in the early stages, Vettel was soon jumped by the Spaniard in the pits.
As it turned out, though, the real threat came from Lotus's Kimi Raikkonen, who used a two-stop strategy to win the race from seventh place on the grid.
"It was quite obvious from about half-distance that was what they were doing," he said. "And then to emphasise that point, he did the fastest lap on a tyre that was older than we could have dreamed of going anywhere near.
"Kimi made it work because his car set-up was very light on the tyre," added Horner, who said there had been "no chance" of Red Bull making the same strategy work.
Horner also explained that traffic did not help Vettel's cause as it puts further stress on the tyres. A case in point was his inability to pass Force India driver Adrian Sutil, who led the race after starting 11th on the prime tyre and running a long opening stint.
"Obviously when you're running around behind a car, you're using the tyre even harder. But then Sutil started to pull away on tyres that were significantly older than Sebastian's," he said.
"That's when we knew we were just out of the window with the tyre degradation today."
The fact that Vettel was chased by the Ferraris during the early stages appeared at first to be down to a poor start by team-mate Mark Webber from second on the grid.
However, Horner blamed the Australian's difficult race - he eventually finished sixth - on a faulty ECU which caused assorted problems, not least a loss of KERS.
"Mark's problems were hugely frustrating because it was an ECU issue that's obviously supplied by a third party. We lost all telemetry on the formation lap, so you can't do the preparation you need to for the start," Horner said.
"That ECU issue shut the KERS down as well. So by the time we'd reset the system, he'd lost the start and lost early ground."
The ECU is supplied to the entire grid by McLaren. However, a new version introduced this season has proved problematic.
"It's something they need to get on top of because there's been a lot of issues in early-season testing," Horner added.
"Today had nothing to do with Mark. You need to go and ask McLaren why the ECU didn't work. That totally messed up his preparation."