Christian Horner: Sebastian Vettel was wrong to ignore team orders in Malaysia
But team boss says "no point" asking World Champ to give up lead
By Mike Wise at Sepang
Last Updated: 25/03/13 8:21am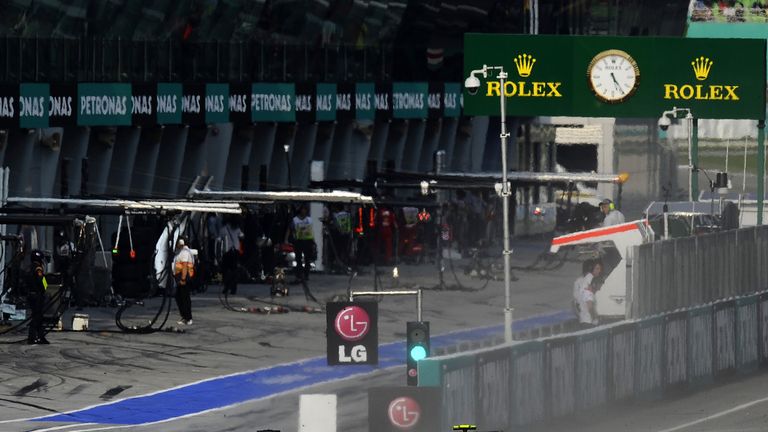 Tensions between the pair, that have simmered ever since they collided in the 2010 Turkish GP, boiled over at Sepang when Vettel, who had lost out to his team-mate in a duel for the lead after Webber made his final pit stop, ignored a subsequent order to 'hold station' and passed the Australian.
Horner was heard over the team's radio saying, "Don't be silly Seb" but the defending World Champion ignored him and pressed onwards to the chequered flag.
With Lewis Hamilton - whose own team-mate Nico Rosberg obeyed Mercedes team orders to stay behind despite being faster in the closing stages - completing the top three, quite possibly the most stony-faced podium ceremony of recent times duly followed.
Vettel later apologised for his actions and Horner said the matter was being dealt with internally. "It wasn't right, what he did," Red Bull's Team Principal said. "He accepts that. I think he's clearly said if he could wind the clocks back he wouldn't do it again.
"He felt that he hadn't heard the call and that it was unclear to him what the instruction was.
"It's the type of thing we talk about behind closed doors. He and I have had the discussion already. Taking the emotion out of and with time to reflect, we'll have (another) discussion."
The order came as a result of concerns Red Bull had about tyre wear. Vettel had struggled with his tyres during the Australian Grand Prix last week and Horner said the team were surprised to find themselves running one-two in what is the most sapping race of the season.
"When that last pit stop was complete, Mark was ahead - it was very close on pit exit. As far as we were concerned, it was a matter of managing the tyres to the end of race," he said.
"The tyres we've obviously been marginal with all weekend and the instruction was given to both cars to effectively hold position.
"Following cars closely destroys tyres. We know we've been marginal and what we didn't want to do was find that we'd ran out of tyres and take an unnecessary risk.
"At that point, Sebastian has obviously chosen to ignore that."
That Vettel chose his course of action once again underlines the contradiction that lies at the heart of F1: a team sport but one whose main focus is on competitors who aren't necessarily very good at being team players.
Another maxim is that the best drivers have a particular tendency towards selfishness. If that's so, then the fact that Vettel is the sport's youngest ever triple World Champion makes his actions seem less than surprising.
For Horner, though, it was the occasional, inevitable, result of signing two fiercely competitive drivers.
"We employ these guys because they are competitive, because they do push each other, because they are very driven individuals. If either was submissive to the other, it's not what we want in a racing driver," he said.
"He's obviously chosen to hear what he wants to hear. He's a race driver, he's competitive; he's hungry. He hasn't achieved the Championships that he has by not pushing the limits. He's pushed that today with his team-mate and with the team.
"Do you honestly think if we'd told him to slow down and give the place back, he'd given it back? There's no point. He'd made it quite clear what his intention was by making the move.
"He put his interests beyond what the team's position was: he was focused on that eight-point difference between second and first place, which was wrong.
"He's accepted it was wrong. From a team perspective, F1 is a team sport. But there's also a Drivers' Championship as well and sometimes you end up in conflict.
"These situations have happened previously and no doubt they will happen again in the future."
Horner pointed out that Webber too has form. "If you think of Brazil at the last race (of 2012) Mark was told to hold position and he started racing him! They're race drivers; they will push to the limit. That's part of what their DNA is and that's why we sign them.
"It's the same up and down the pit lane. It's where you have a conflict between a driver who is contracted to the team, whose main interest is the Drivers' Championship, and the team's position which puts extreme value on the Constructors' World Championship."
Horner also played down the suggestion that Webber, who said after the race that he was "thinking many, many things" during the closing laps, was considering his future at the team.
"In the heat of the moment, there's always going to be emotion," he added. "But both of them have just sat in a debrief, both of them have talked very constructively about the car and focused on where we need to improve and where we need to be better for the next race.
"Of course it'll take time to calm down. But what's done is done and we can't change that. The team's position was clear.
"The team didn't manipulate any situation, there was no conspiracy, so why he needs to be thinking about his future, or anything like that, is just pure emotion."