Christian Horner: There was no conspiracy and Mark Webber will stay for rest of 2013
Red Bull boss has "no doubt" Aussie will see out contract
By Pete Gill and Mike Wise
Last Updated: 04/04/13 11:11am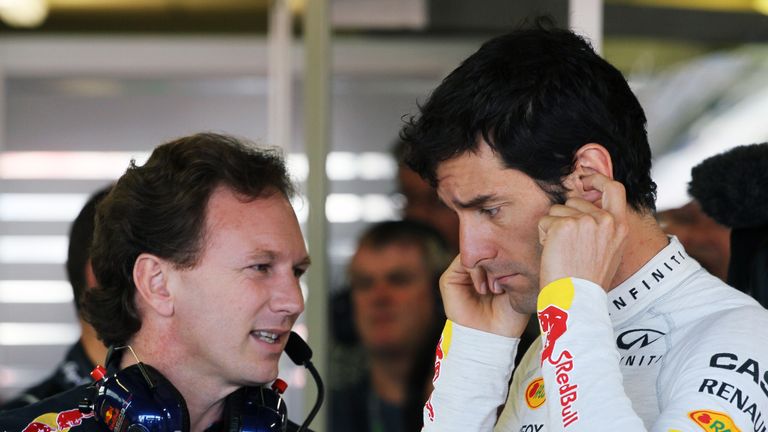 An angry Webber dropped a veiled threat to walk away from the Milton Keynes outfit in the immediate aftermath of the volatile Malaysian GP in which he was denied victory when Sebastian Vettel defied team orders and overtook his team-mate for the win.
Webber has since returned to his native Australia, but Horner has no doubts that the 36-year-old, whose contract runs to the end of the season, will be on the grid in two weeks' time for the Chinese GP. He also denied that Sunday's events were a display of Red Bull favouritism towards Vettel.
"Mark knows there was no conspiracy within the team," Horner told Sky F1's Ted Kravitz in an exclusive interview which was broadcast in Thursday's edition of The F1 Show. "We gave equality and our intention was to shut the race down and minimise the risk - particularly with the tyre degradation we had seen.
"It was the intent of the team for Mark to win the race. It wasn't that we suddenly gave Sebastian the instruction to 'go and pass your team-mate'.
"He is big enough to know there was no malice and no intent to create any situation like that. He is in a car capable of winning grands prix and hopefully winning World Championships.
"I have no doubt Mark will see out the contract with us."
Vettel apologised to Webber after the race and Horner revealed that the triple World Champion did the same to Red Bull staff during a visit to their factory on Wednesday.
"He's apologised to the team. He's apologised to every single member of staff earlier today for his actions, because he recognises that the team is vitally important and being part of a team is a crucial aspect to being able to challenge for those Championships," he said.
Of Vettel's decision to defy team orders and pass Webber after the final round of pit stops, Horner said that the German "probably underestimated the effect of his actions".
"He was quite surprised by the reaction after the race. But again, he received a call from his engineer pretty soon after that final stop and then I spoke to him a couple of times," Horner explained.
"I think the message we were trying to convey was quite clear. I think the situation was that he was very focused and very transfixed on making the most of the tyre he had on his car, a new set of tyres he had saved from the previous day, and capitalising on that in the early laps after that final pit stop.
"He's a race driver, a fiercely competitive individual and you don't win 27 grands prix, three World Championships and the amount of pole positions he's achieved at 25 years of age without being a very driven individual.
"We all know there's a bit of history between the two of them and I'm sure that was somewhere at the back of his mind as well."
The history Horner alludes to dates back to the 2010 Turkish Grand Prix, in which Vettel and Webber collided whilst disputing the lead.
Horner also had to fight allegations of favouritism at that year's British Grand Prix, during which a new front wing was removed from Webber's car to replace one which had broken on Vettel's during practice.
"Not bad for a number two driver," was Webber's pointed remark to Horner after he took the chequered flag at Silverstone the following day.
However, he pointed out that Webber has twice - at the 2011 British Grand Prix and also at last year's Brazilian Grand Prix - defied team orders not to race Vettel.
"There has been a breakdown of trust since Istanbul. It's something we've had to manage since 2010. But the most important thing is that they do have a respect for each other on track," he said.
"What happened on Sunday was unfortunate but let's not pretend it hasn't happened the other way round or in other teams."
Horner also defended Red Bull's decision to issue the order and joked that the 'Multi 21' and 'Multi 12' instructions his drivers have ignored in recent races might need a re-think.
"Of course, as a purist, you want to see the drivers race - and actually the show they put on was fantastic, it was great wheel-to-wheel racing," he said.
"But then you're steering the ship and your responsibility is to 600 people...they don't get paid on what the driver does, they get paid on what the team's constructor finish is. Then the responsibility is to make sure that the team achieves its maximum."
Explaining the codes, Horner added: "Multi 21 means car 2 ahead of car 1; Multi 12 means car 1 ahead of car 2. It's not complicated!
"It's not that difficult to translate but both our drivers in the last three races have failed to understand both of those messages.
"I think we're going to give up on that code. We need to probably try something else."