Sebastian Vettel attempts to move on from his controversial Malaysian GP victory
But German underlines his mentality is always to win races
Last Updated: 11/04/13 8:09am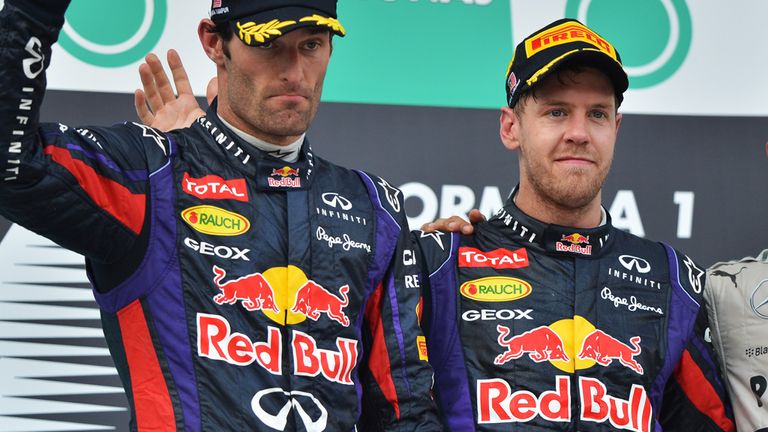 Since the initial fallout from controversy at Sepang, and subsequent media backlash, the triple World Champion had yet to provide further comment on the matter owing to the three-week break between races ahead of F1's return to action in Shanghai this week.
However, it was revealed during Sky Sports' F1 Show by Red Bull chief Christian Horner that the World Champion had personally apologised to the team's workforce during a visit to their Milton Keynes base in the week after the Sepang race.
Vettel was expected to first speak about the rumpus again during his media engagements on the opening day of the Chinese GP on Thursday, but the German has now broken his silence in an interview released by Red Bull's title sponsor Infiniti.
While he expressed regret that the Sepang controversy had overshadowed Red Bull's impressive on-track performance, Vettel also insisted he would make no apology for his racing to win mentality.
"Obviously what stuck to their [people's] heads is the way the race ended, but I think as I said there's not much more to add than what happened," Vettel said.
"I told the team straight after, I apologised for putting myself above the team, which I didn't mean to do, but there's not much more to say really.
"I don't apologise for winning - I think that's why people employed me in the first place and why I'm here. I love racing and that's what I did."
While it was by far the most controversial of his 27th career victories to date, Vettel's Sepang success nonetheless meant he established an early lead in the Drivers' Championship after the opening two rounds of the season.
Looking ahead to the challenge presented by this weekend's Shanghai event, the World Champion admitted Red Bull, like all the teams, were still on a voyage of discovery with the 2013-spec Pirellis even if they made progress on understanding them in Malaysia.
"Obviously we learned quite a bit from the first two races. China will be different again, different circuit, different climate," the 25-year-old added.
"So I think we're still in the learning process. Obviously the first two races helped a lot and I think it was very obvious to see that working with the tyres and trying to make the tyres last is crucial. It determines your strategy and therefore determines your race and the result.
"I think we've still got a lot to learn but we made some improvements and we tweaked the car a little bit to help that. But on the other hand we'll still have to come here, come to China, set the car up on Friday, see where we are, see how long the tyres last and go from there."