Christian Horner furious over conspiracy theories after Mark Webber's troubled China
And Red Bull chief backs Australian to bounce back in Bahrain
By James Galloway
Last Updated: 15/04/13 4:27pm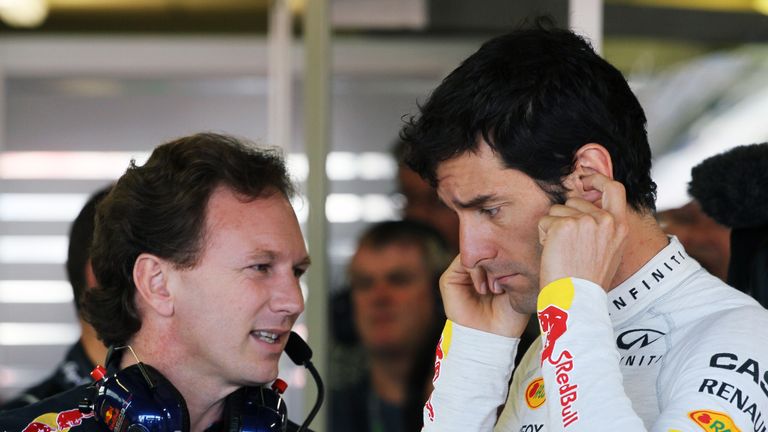 With Webber having arrived in Shanghai at the centre of the biggest story of the season so far, and with his future at the World Champions beyond the end of the season in serious doubt, after the intra-team controversy of Malaysia, the Australian had hoped to get his title challenge back on track.
However, despite looking the stronger of the two Red Bull drivers in practice, the veteran's weekend soon lurched from one setback to another.
On Saturday, having already only provisionally qualified 14th after he was instructed to park up in Q2, Webber was excluded from the results after a Red Bull refuelling rig problem meant his RB9 could not provide a fuel sample.
And while at the start of Sunday's race he initially made good progress up the order from the pitlane, he collided with the Toro Rosso of Jean-Eric Vergne - which would later earn him a three-place grid penalty for Bahrain - before ultimately dropping out of the race entirely when a subsequent pitstop for repairs resulted in his right-rear wheel not being fitted correctly.
At the end of his regular post-race interview with the written media in Shanghai, it was put to Horner that some conspiracy theories were already doing the rounds. But even before the journalist finished asking the question the Red Bull boss injected: "That's complete rubbish.
"Forget conspiracy. We're all about trying to get two cars to finish as high as we can. Anybody that thinks that there's a conspiracy here against one, or either, or any driver doesn't know what they're looking at."
With one wild allegation firmly batted away, Horner backed Webber to bounce back strongly from his frustrating Chinese weekend.
"I think he'll be fine," Horner insisted.
"He's a tough competitor, he's driving very well, and he was driving back through the field.
"We made some big changes overnight to gear ratios, downforce levels and set-up to assist him to do that and as we see with these tyres at the moment the way his strategy was going it was working well for him.
"He was back in the thick of it. The contact was unfortunate and then obviously to retire the car was even more unfortunate. Our objective is to get both cars to the finish as high as we can."