Christian Horner expects Red Bull to have wide pool to pick from for 2014 seat
Team boss also says not Vettel's style to "dictate" team-mate choice
By James Galloway
Last Updated: 11/05/13 8:58am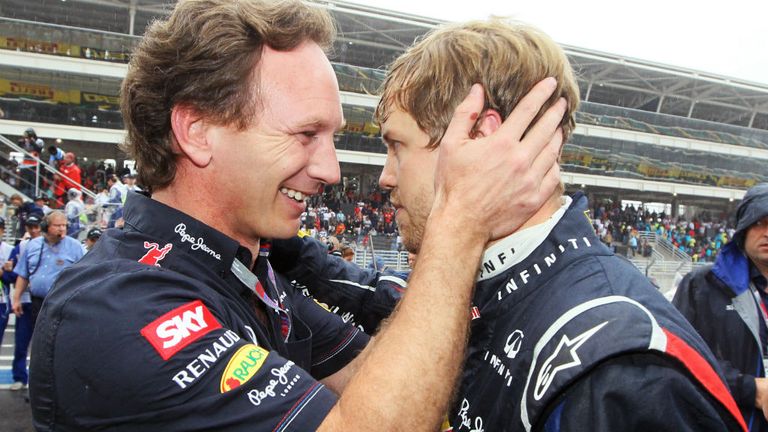 Red Bull have been at the centre of the early-season transfer speculation over the driver market for next year in the wake of the spectacular reopening of public tensions between Vettel and long-time team-mate Mark Webber at the Malaysian GP when the former disregarded team orders not to pass the Australian.
With Webber, who has been on a rolling one-year deal for several seasons, widely thought unlikely to extend his Red Bull stay into a seventh campaign, several drivers have been strongly mooted as potential replacements, principally Toro Rosso's Daniel Ricciardo, and most recently and spectacularly of all, Lotus's Kimi Raikkonen.
Speaking in an interview with the official F1 website at the Spanish GP, Horner, Red Bull's Team Principal, made clear they wanted the strongest driver line-up available.
"Our objectives are very simple: we want the best two drivers in our cars," Horner replied when asked where the team were looking for candidates, and if Toro Rosso was one such place.
"If they come from Toro Rosso, fantastic as they develop nicely. But we always push to have the best two drivers available."
And then pressed on whether he could name any potential drivers in the frame, a coy Horner replied: "There is no shortage of choice."
However, despite admitting himself after the controversy of Malaysia that there had been a breakdown in trust between his drivers ever since their acrimonious collision at the 2010 Turkish GP, Horner has insisted that it nonetheless isn't in Vettel's nature to put pressure on the team over the identity of a team-mate.
"He [Vettel] is going to do the best job for himself," the Red Bull chief added.
"And to say, 'this one, yes' and, 'this one, no' was never Sebastian's style, to dictate, 'I must have this or that'. He is a sporting guy and has never pressured the team into doing things for his own benefit."
In any case, Horner made clear that decisions over their 2014 line-up would remain on the back burner for several months yet.
"It is much too early thinking about drivers for next year. Sebastian is clear - and everything else will fall into place towards the end of the summer. There is no pre-conception," he added.