Sebastian Vettel insists his Pirelli complaints were only ever directed at safety issues
World Champion denies he has been most vocal tyre critic
By James Galloway
Last Updated: 10/06/13 2:36pm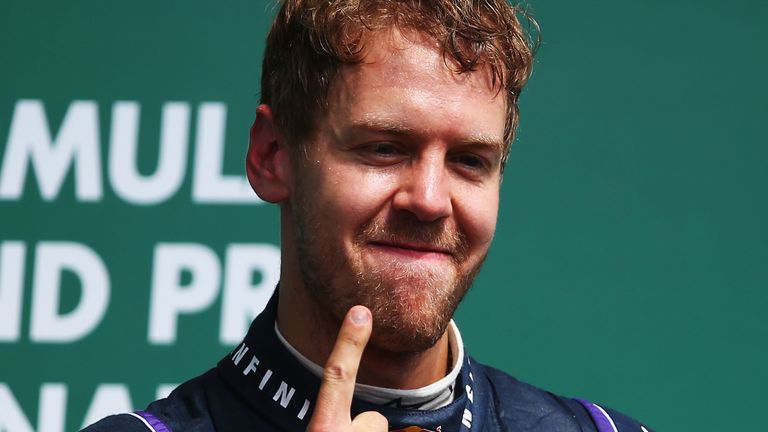 The World Champion's Red Bull team have generally been the most openly critical of the 2013-spec compounds since the start of the season and were believed to have lobbied heavily for the tyres' durability to be beefed up.
Vettel in particular hit the headlines ahead of the Monaco GP when he voiced fears over Pirelli's tyres in wake of a spate of delaminations, suggesting the Italian firm "have to do a better job on safety grounds".
But asked in Montreal on Sunday if he had now revised his opinion on the tyres following his dominant victory in the Canadian GP which increased his title lead to 36 points, Vettel took umbrage with the suggestion that he had been vocal about their performance in the first place.
"Well, I think it's pretty simple," the German replied when it was put to him that he had been the 'most vocal' critic of Pirelli.
"The criticism we had or I expressed was not based on performance.
"I think it was based on safety and I'm sure if you ask other drivers, maybe they weren't that strong in the press, maybe they think they have an advantage with this sort of tyre, but we had some occasions this year where the tyre suffered delaminating, the top layer came off for not exactly known reasons, probably debris but you will always have some pieces on the track.
"I think it's not possible to have an entirely clean track everywhere and I think that has been the criteria."
Vettel insisted that any time he had said during the course of a grand prix weekend that he or Red Bull were struggling to get the most out of the tyres it wasn't an implicit criticism of Pirelli.
"Every time I complained about balance or the tyres and their behaviour, every time as I said as well that on that day there were other people doing a better job and first of all we had to get to their level to start complaining about performance," he claimed.
"But obviously when you say something, it's in fashion, these days to take what you like instead of probably publishing the whole answer."
A lack of consensus among the teams has meant that Pirelli have been forced to row back from making any direct changes to their compounds for the remainder of the season, with only plans now afoot to revise the rear construction to cure the delamination problems.
Sunday's Canadian GP was noticeable for the fact that drivers were being encouraged to push flat out for the majority of the race and Red Bull's technical boss Adrian Newey told Sky Sports F1 after Vettel's runaway victory that it had been a welcome return to "pure racing".
"I think it's good and produces good races when the drivers can push and not have to drive at 80%," Newey said.
"You saw in Monaco when the drivers got out [of their cars] they had barely broken sweat, it was a very much a Sunday afternoon cruise.
"It doesn't seem very pure but this was pure racing today."