Sky Sports Exclusive: Christian Horner Q&A after the Testgate Tribunal
After making a surprise appearance at Thursday's Paris hearing, the Red Bull boss spoke to Sky Sports News at the conclusion of the day
By Sky Sports Online
Last Updated: 20/06/13 5:39pm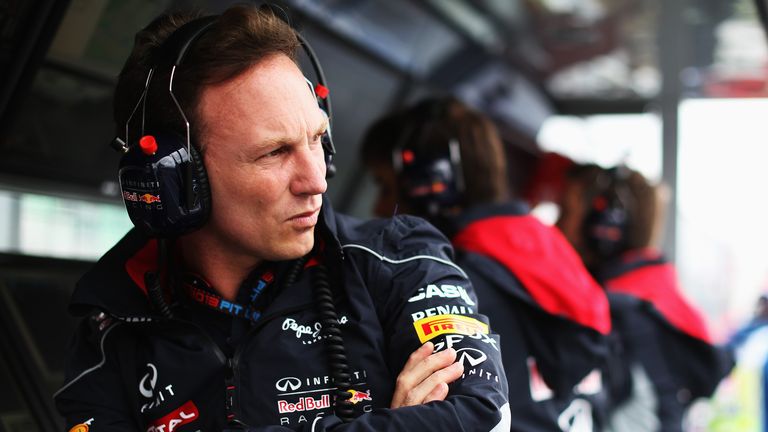 Were you convinced by Mercedes' arguments today?
Christian Horner: "Not really, but it is down to the Tribunal now. They have all the facts and we trust in them to make an appropriate decision."
They [Mercedes] said that a reprimand might be enough and that it was a minor infringement. Would you want a sporting penalty?
CH: "It's for the Tribunal to decide, it's not for us to comment on what the penalties should be, but normally if you commit a sporting offence then it is a sporting penalty which goes with it."
What about this notion it was a Pirelli test rather than a Mercedes test?
CH: "I think it's quite clear that whenever you are running a Formula 1 car you are learning something, particularly when it is a current car. It's almost irrelevant what type of tyres they had on."
Are the FIA in the dock over this? Did they mislead Mercedes in this case?
CH: "I think there's a degree of ambiguity but the rules are very clear. All the teams know what the rules are, they spend an awful lot of time involved in writing the rules with the FIA, so I think all the teams are quite clear on what the rules are."
What do you think of Mercedes' proposal that they are banned from the Young Driver Test?
CH: "I can't see how much of a sanction...They've already done their test with senior drivers so being banned from a Young Driver Test probably isn't much of a sanction."
What do you think a fair penalty would be?
CH: "That's down to the Tribunal, but the problem is that if it is only financial then that only becomes the cost of testing. The most important thing to come out of this is clarity; you are either allowed to test or you are not. Obviously, Ferrari have conducted a couple of tests which have come out of this, albeit in a 2011 car, which is within the regulations, but I think moving forward the most important thing is transparency and clarity because the way that test was conducted wasn't right.
"We raised a protest against Mercedes because in our opinion they breached the Sporting Regulations. It's been a fair hearing today and all the parties have represented their cases, and that's it."