Christian Horner warns Pirelli and suggests that they revert to using last year's tyres
Red Bull team boss warns that "someone will get hurt"
By Pete Gill and Mike Wise
Last Updated: 01/07/13 7:27am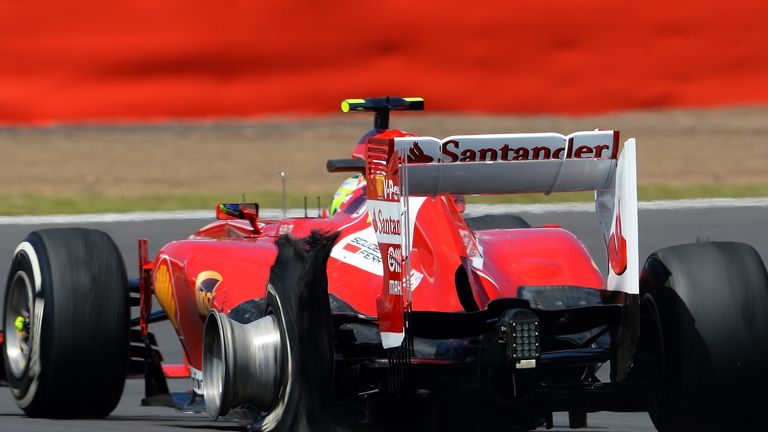 While all four incidents ended without injury, the string of tyre failures overshadowed a gripping race at Silverstone.
Although the puncture which cost Lewis Hamilton the lead of the race will dominate post-race discussions, it was the sight of Kimi Raikkonen's Lotus being struck by debris from the Toro Rosso of Jean Eric Vergne and thFerrari's Fernando Alonso only narrowly avoiding the strips of rubber torn off the failed left-rear tyre of Sergio Perez's McLaren which were the most alarming moments of an unsettling afternoon.
"It was frustrating to see," admitted a concerned Horner despite neither of his cars suffering an outright failure. "The most important thing is to understand the problem. Pirelli need to go away and reflect and understand what has happened. We need a solution because someone will get hurt if that keeps happening.
"Something needs to be done."
On that subject, Horner later suggested that Pirelli revert to their 2012 tyre specification. Red Bull expressed unhappiness with the current compounds earlier in the season but their Team Principal said that the issue then - his team's performance on them - was now a secondary concern.
"The most logical thing would be to go back to the tyres that have worked for them well previously," he said. "Certainly last year, we didn't have these failures.
"The problem with that is that teams are always perceived to be chasing competitive advantage. But I think, from our perspective, we were leading the race on these tyres, we've won races on these tyres.
"I would urge to change purely on the grounds of safety."
That sentiment will have been echoed up and down the pitlane on Sunday, with Sebastian Vettel, a director of the Grand Prix Drivers' Association, also highlighting the problem suffered by Perez during Practice Three as proof that Sunday's failures were not isolated incidents.
It emerged during the course of the Testgate hearing that the GPDA sought assurances from Pirelli at Monaco that their tyres were safe and Vettel said it would be "very disappointing" if this weekend's issues were a reoccurrence of problems experienced earlier in the season.
"First of all, we need to understand exactly what happened today - as well as on Saturday morning with Sergio during Free Practice," said Vettel after retiring from the lead of the race with a gearbox problem.
"We have forwarded already our concerns and we got a guarantee that the tyres are safe. If that's the same kind of problem then obviously that is very disappointing, but I can't say that at this stage because I don't know what the exact problem was."
Pirelli have promised a full investigation into the failures with another GPDA board member, Jenson Button, describing the incidents which blighted Sunday's race as the cars hurtled through some of Silverstone's fastest segments as "scary".
"If it's happening through low-speed corners then that is bad enough, but it is happening at 300kmh along the backstraight which is very scary. It's not just scary for the person driving the car, it's very scary for the person driving behind. The whole tread is coming off the tyre and if that hits you in the head then I don't know what might happen," the 2009 World Champion said.
"Something has to be done but something was supposed to be done two races ago, that was the reason for the change in construction - for safety, nothing else. We've had five [tyre failures] here in total, including Checo's on Saturday. The situation is obvious."
But although the seriousness of the problem is indeed obvious, a solution is less straightforward. Intriguingly, Button cited the compounds tested by Mercedes at their recent 'private' Pirelli test at Barcelona - for which both team and manufacturer received a reprimand - as he considered how F1 might next move forward.
"There are tyres there, I don't know how reliable they are, but they've all been tested - we all know that. Hopefully there will be change for the next race, but it is only next weekend."