Christian Horner hails 'phenomenal' Sebastian Vettel after Singapore masterclass
World Champion now sixty points clear of Fernando Alonso
By Pete Gill
Last Updated: 22/09/13 6:28pm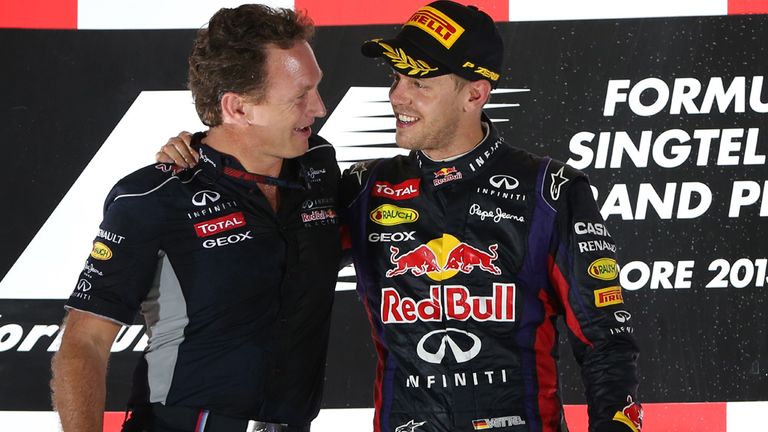 In a sport in which every tenth counts, Vettel was, in the accurate summary of Horner, "in a league of his own" as he romped to a dominant victory despite the mid-race deployment of the Safety Car. With his lead in the standings over Fernando Alonso now extended to 60 points, a fourth World Championship is now all-but guaranteed.
"It was one of his best-ever drives," enthused Horner. "The Safety Car came out at just the wrong time for us and we never thought he'd be able to open up a lead of over thirty seconds. It was absolutely phenomenal."
It is an ominous thought for the rest of the pack that not only the young German has taken a stranglehold over the sport, but his peak years may still be in front of him.
"It's easy to forget how young he is - he is only just 26," continued Horner on the day which Vettel claimed his 33th career win.
"The talent has always been there, but as he gets more experience he is just continuing to improve. He works so hard, he leaves no stone unturned, and he is more self-critical than any other driver I've ever worked with."
In sharp contrast, Vettel's team-mate Mark Webber was forced to retire from the race with his RB9 engulfed in flames almost at precisely the same moment when the German was crossing the line to register his third consecutive win.
With substantial leads in both championships, Red Bull could be tempted to begin switching attention to the imminent rules revolution of 2014, but the bad news for their flagging rivals is that there will be no let-up from a team on the verge of claiming their fourth consecutive title double.
"It is a balancing act but the things were are doing on this year's car are still relevant to next year's because the cars are still cousins," Adrian Newey, the team's technical genius, explained to Sky Sports F1.
"We will keep pushing - if you get complacent, it can disappear from you so easily."