Red Bull boss Christian Horner criticises stewards over Mark Webber grid penalty
Aussie to take grid drop after hitching a lift on Alonso's F138
Last Updated: 27/09/13 2:59pm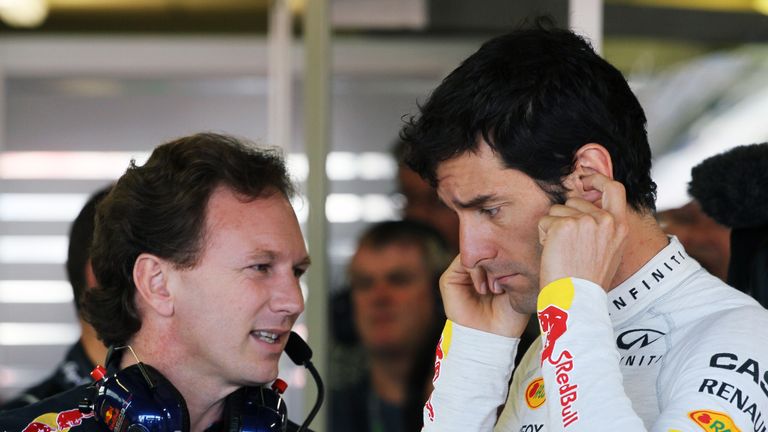 Webber will start the Korea Grand Prix early next month with a 10-place grid penalty after hitching a ride on Fernando Alonso's Ferrari at the end of the Marina Bay race.
The Australian's Red Bull blew up in the closing stages of the race and Webber jogged to the side of the track at turn seven before flagging down the Spaniard to be his taxi driver back to the paddock.
But stewards took a dim view of his actions, which caused Kimi Raikkonen to grind to a halt and Lewis Hamilton to take avoiding action, while Webber himself came close to being run down by Nico Rosberg.
Webber and Alonso were both reprimanded for their conduct but because it was the Australian's third indiscretion of the season, he was hit with a far tougher sanction.
But Horner felt it was too severe, saying: "Drivers have given others lifts home in previous years - it happened the other way around with Mark and Fernando somewhere else.
"One of the most iconic images I can remember is of Nigel Mansell giving Ayrton Senna a lift home (in the 1991 British Grand Prix).
"On this occasion it was good for the show, it was good TV, and it should have been dealt with with a fine or a slap on the wrist.
"What's a shame is that it's ended up in a reprimand, and because it's the third it means a 10-place penalty.
"Unfortunately, reprimands are the only things now available to the stewards, and perhaps in this instance talking to the drivers would have sufficed.
"Ideally, a fine would have been better, but I don't think that's something that's available to the stewards now (teams and not drivers can now only be fined).
"It's frustrating because it now puts Mark on the backfoot in Korea, and that's the bit that doesn't really make sense.
"But I understand the difficulty the stewards have with the penalties they have at their disposal."
Jenson Button added his criticism on Twitter, saying: "Disappointed to see the penalties for @AussieGrit (Webber) and @Alo_Oficial (Alonso), act of sportsmanship should not really be punished."
Disappointed to see the penalties for @AussieGrit and @alo_oficial, act of sportsmanship should not really be punished.

- Jenson Button (@JensonButton) September 23, 2013
Button then added shortly afterwards:
Maybe @alo_oficial could have stopped in a slightly safer place but still think it's a bit harsh..

- Jenson Button (@JensonButton) September 23, 2013