Christian Horner Q&A: The Red Bull boss defends Sebastian Vettel from the boo boys
Horner praises Vettel's Singapore win and explains Webber's woes
By Mike Wise in Singapore
Last Updated: 23/09/13 11:31am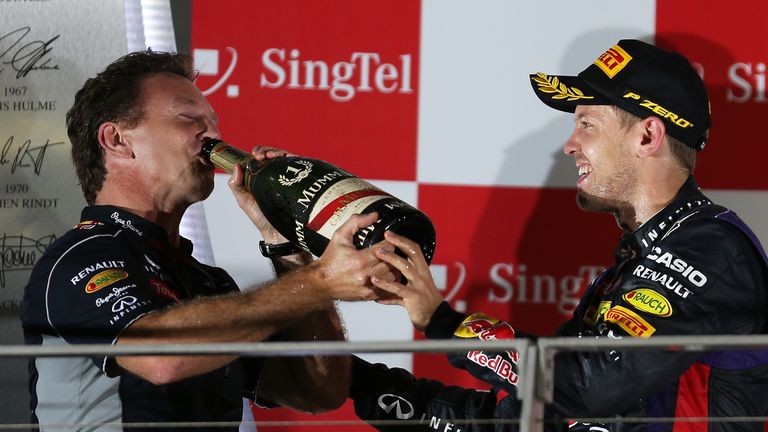 Q: Were you surprised at the level of dominance today?
Christian Horner: "Sebastian's pace today was outstanding. Obviously after the start it was a matter of trying to make the duration of that soft stint go far enough. So you're managing the tyres, managing the situation and Sebastian's so good at that as we've seen many times.
"The pace car came at arguably the worst possible time for us because we weren't in a window where we could go to the end of the race. We'd recently changed tyres and track position is crucial here. So we basically gave Sebastian a target 'you've got 15 laps, do what you can' and his pace during that period of the race was phenomenal. To build up what turned out to be 30 seconds to Fernando [Alonso] that gave him a clear stop was absolutely remarkable. He was just in a class of his own around here today."
Q: Did you get a bit of good fortune with Grosjean? Were you worried about him?
CH: "The way it panned out it was reasonably okay for us. The devastating pace that Sebastian had, he was at times two seconds a lap quicker, and then Grosjean would have then have had to pass the Mercedes even if he'd got past Fernando. So at no point did he ever look under any pressure today."
Q: Sebastian's either being very philosophical or putting on a brave face when it comes to the booing that goes on these days on the podium. How do you assess it, is it getting a bit tedious now?
CH: "The problem is standing up on the podium what you see is there's a small collective group and then it's like a pantomime. I think it's so unfair because it's not sporting. The boy today has driven an unbelievable race. What you've witnessed today is what I think is one of the best drives I've seen him produce in terms of raw pace and what he's been able to deliver.
"I just don't think it's sporting at the end of the day to see a driver who's put in a performance like that not get the reception that he deserves. Of course he says it doesn't affect him, he doesn't feel it, but he's a human being at the end of the day and when you've driven your heart out and you're given that reaction up there to me it's not fair. I don't think it's sporting, I don't think it's right and I don't think it's deserved in any way.
"He's got a broad set of shoulders but, again, like anybody he has feelings and I don't think it's right."
Q: Do you think some of it's a legacy from Malaysia?
CH: "I don't know what it is to be honest with you. To be sure Malaysia didn't help but as we all know Malaysia's happened, it's been done. There's been an awful lot written about it and there were circumstances involved in that that Sebastian felt...
"When you've got a guy that's winning and almost becomes a serial winner it's like people when they watched Mohammed Ali, they wanted to see who is going to beat him, and it's a little bit the case at the moment - people want to see who's going to beat Sebastian.
"So when he keeps winning maybe it isn't the most popular result but I still think it's not sporting and it's not fair not to recognise when a sportsman has delivered in the way that he has not to see that recognised."
Q: Do you think it's particularly unfair as well because he's a good ambassador and he's got a good sense of humour?
CH: "He's a great kid. He's got a great sense of humour. He's got a big heart at the end of the day and of course he's ambitious, he's a competitor and he will push and he enjoys winning. It's a shame [Vettel is booed] and I hope it will change in the forthcoming races."
Q: He's certainly become a pantomime villain though hasn't he Christian? Alonso's had it at times, Schumacher's had it at times...
CH: "We've heard it with Fernando. I can remember when I first came into the sport Fernando in the years that he was winning continually with Renault was booed everywhere he went. When he raced against Lewis Hamilton at McLaren he was hugely unpopular, now he's the most popular driver in the pitlane.
"Everybody loves and underdog and of course he's got that and is working that extremely well. But Sebastian I think is delivering at a level that is a pleasure to see and I think that this won't affect him. But for sure, when you're standing up there it's not a pleasant experience to hear boos for when you have put in a dominant performance."
Q: That's probably the most dominant we've seen you this year, have you put more performance on the car or is there something about this place?
CH: "Well at one point I thought he'd found a short-cut because his pace advantage was so significant! Of course you've got the benefit of running in clear air but we saw on Friday that the car was really quick here and the only time that we really unleashed him was in that window after the Safety Car and said 'okay, we need to build a gap'. I don't think any of us expected that he'd be able to hit 30 seconds in 15 laps, or whatever it was that he managed to turn around."
Q: Is that from the car though?
CH: "I think that's a combination of him having confidence in the car and, for sure, we've made progress with the car. Adrian [Newey] and his team are doing an incredible job balancing between the current development and the 2014 challenges. High-downforce circuits hadn't been our strong point earlier in the year and I think it's testimony to the technical team and the hours that are going in that we've come to a maximum-downforce track and we've been right on the pace."
Q: What about the bad luck for Mark Webber?
CH: "It was a bittersweet victory today because on the one hand it was such a dominant result by Seb and on the other to get within two miles of the finish line with Mark only to have an engine failure. We could see we were at risk [of that] from about 12 laps out. We were losing water pressure, and then of course the water effectively ran out with about a lap and a half to go, and then you're in the lap of the gods.
"We decided to keep pushing to try and get to the finish line and he nearly made it. But that was harsh for him to race for two hours and have that failure on the last lap."
Q: Where would he have ended up if this didn't occur?
CH: "I think he would have caught Kimi [Raikkonen]. I'm not sure he would have passed Kimi, but he would have given him a hard time. For sure [Webber would have finished] fourth."
Q: You've not only got a comfortable lead in the championship, you've also got a clear performance advantage as well. Surely you can't be too worried about the championship now?
CH: "It's my job to worry! You can't become complacent in any way. We never have yet and we won't certainly this year. Our approach is one race at a time. Now the next challenge is Korea and to get the most out of that venue and then after that Suzuka. If we keep doing that then the championships tend to take care of themselves."
Q: Could you explain why Webber is not at the same pace as the other guy? And why didn't you pit him under the Safety Car?
CH: "The first question is quite easy: Mark was in traffic pretty much the whole race. So it was not easy for Mark running in dirty air and of course at many points in the race we were asking him to conserve the tyres and when you're in the dirty air of the car ahead that can create an awful lot of damage to the tyre.
"The second question about why we didn't call him in under the Safety Car, we have just changed tyres with Sebastian and a couple of laps earlier with Mark and we knew we didn't have the range to get to the finish. So for us it was strategically the better option for us to stay out and actually all the teams that pitted were on the soft tyre. All the guys that were on the hard tyre, including Mercedes, ended up doing the same as ourselves. So the Safety Car came at just the wrong moment really in our strategy and it was the only option we had available to us."
Q: You love winning, you love winning titles. Would you be happy to enjoy a closer championship battle between the top teams?
CH: "We've had two bloody close ones that I don't want to go through again! Brazil last year I've now got several grey hairs from. Abu Dhabi two years earlier was about as stressful as you can get. So the most important thing is winning. For us we're trying to defend both titles and our job is to try and do that as soon as possible, it's not our responsibility to take it to the last race - which hopefully it won't go to!"