Sebastian Vettel confident Red Bull will fix his KERS problem for Japanese GP
No Saturday excuses and no Sunday concerns for World Champ
By Pete Gill
Last Updated: 13/10/13 7:14am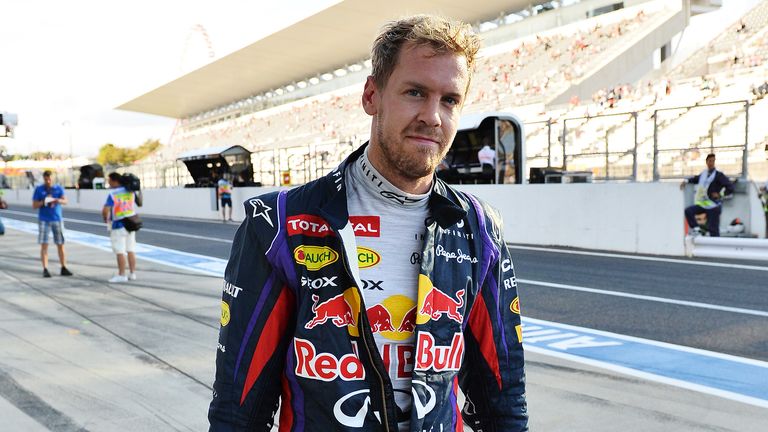 The World Champion, who could clinch a fourth successive title this weekend, missed a large chunk of Practice Three due to a KERS battery fault on his RB9 and was then unable to deploy the power boost during the Q3 showdown - a potentially decisive factor in his defeat to Mark Webber as the Australian out-qualified his Red Bull team-mate for the first time this season to claim pole position.
"It was unlucky for Sebastian. We had an issue with the KERS this morning, we changed as much as we could," Red Bull Team Principal Christian Horner explained to Sky Sports F1.
"The first session it failed in Q1, it came back in Q2, and then in Q3 it failed immediately. So both Sebastian's laps in Q3 were without the KERS, so a great performance from him to get on the car on to the frontrow."
While refusing to make excuses for his qualifying defeat, an upbeat Vettel says he expects the team to fix the fault for the race.
"I'm sure we will find the problem tonight and it will be fine for tomorrow," the German told reporters. "Fortunately we have more time now to find out if something is broken or damaged."
But Vettel wasn't prepared to suggest that he would have claimed pole ahead of Webber had the fault not materialised on Saturday morning.
"We had a problem but that didn't make a difference in terms of finding a rhythm," he said. "Mark did a very good lap.
"We had an issue in qualifying, but I'm not a big fan of 'without this, with this'. It is always an unknown. The fact is that we are P2 and it's a great result for the team."
Vettel will secure this year's World Championship in Japan if he wins the race and Fernando Alonso finishes ninth or lower.