Christian Horner says Red Bull wouldn't have won four titles without Sebastian Vettel
Team Principal also wonders why German would ever leave his team
By William Esler
Last Updated: 28/10/13 1:40pm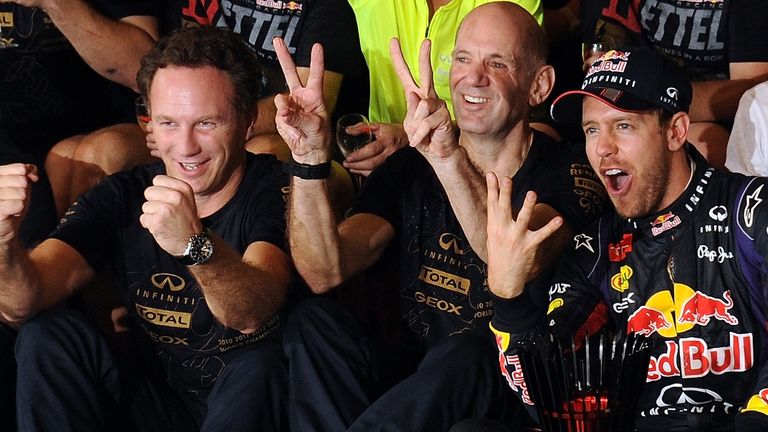 The German took his tenth win of the season at Sunday's Indian Grand Prix to secure his fourth Drivers' Championship, whilst the points were also enough for Red Bull to seal the constructors' crown.
Some fans and critics have tried to diminish the German's achievement by putting the success down to the car, but Horner feels the team would not have been as successful without Vettel.
"I think it is all about the team," he said. "You need a great team and you need great drivers and for sure without Sebastian we wouldn't have won four consecutive World Championships.
"He is now by right one of the all-time greats, he joins a select few. But it needs everything to work in harmony - you can have the best driver in the world, or the best designer in the world, but if you don't have the right team and work as a team, it will never work."
Vettel is the only four-time F1 Champion to win all his titles with one team, but Horner is not worried about the prospect of the German leaving Red Bull and sees no reason why the 26-year-old would want to do so.
"I don't - I think every driver in the pitlane would like to be in one of our cars at the moment," he added.
"Sebastian enjoys driving for the team, he has grown up within the team, he is very much part of the team, why would he want to be anywhere else?
"I think he is focussed on winning and whether that colour is blue, red or silver, he has a tie to this team, he has had all of his success in cars designed in Milton Keynes, he has been a member of the Red Bull junior driver programme - Dietrich Mateschitz has backed him since he was 13 or 14 years of age - and of course there are no guarantees, but it is not about contracts or anything like that, it is about relationships and there is total trust in Sebastian from the team and there is total trust from Sebastian in the team."
Read the full Q&A with the Red Bull Team Principal