Red Bull celebrate 'first proper test day' but look to be far behind Mercedes
World Champions finally enjoy plenty of track time at Melbourne
By Pete Gill and James Galloway
Last Updated: 14/03/14 11:05am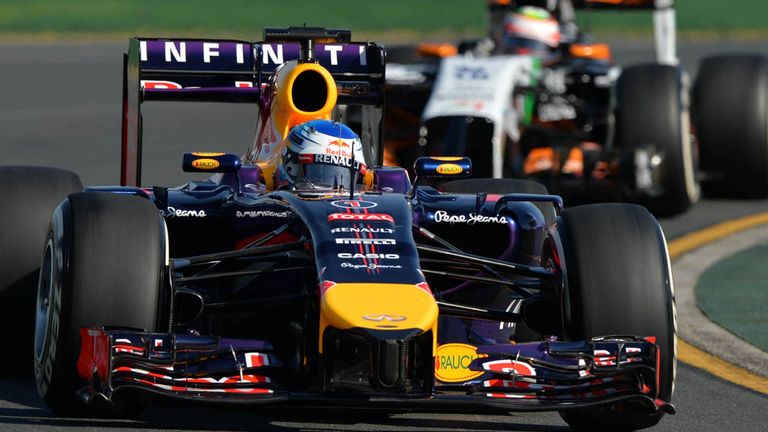 After a wretched pre-season, in which the RB10 proved to be a model of unreliability, the World Champions enjoyed that rarest of things, a trouble-free day, on Friday at Albert Park as the F1 field embarked on their first track session of the new session.
With Daniel Ricciardo completing 38 laps in the afternoon session, Sebastian Vettel racked up a best-of-day 41, offering a belated ray of encouragement for the reigning champions after being all-but written off following their chronic winter woes.
"Today's been a strong first day for us," said a relieved team boss Christian Horner. "It's been our first proper test day of the season really. We've had a very difficult pre-season with numerous issues which have been pretty well-documented prior to us arriving in Melbourne.
"So it was refreshing for both drivers to get plenty of laps in and get really their first proper feel for the car. It's been an encouraging start. We have still got an awful lot of work to do; we can still see that there's quite a gap to certainly the Mercedes, and Ferrari, but we're starting to realise what that gap is and by the end of this weekend that should hopefully again have a bit more clarity."
Judging by Friday's evidence, however, Red Bull are around half a second behind Mercedes in single-lap running, and as much as a second slower per lap in race trim. But after so little time on the road over the winter, such a substantial deficit was inevitable, with Friday's successful practice sessions at least providing the team with a base from which to build up their under-performing new car.
"Behind the scenes there's an enormous amount of effort going on both back in the Red Bull factory in Milton Keynes and Viry-Chatillon with the Renault guys as well," continued Horner.
"Morale is extremely high and we work very effectively as a team. It's been a challenging winter to design, build and then obviously modify RB10 but the way the team's responded to the challenge has been fantastic.
"I think Sebastian today has covered a third of the mileage of his total winter [mileage] and Daniel has done pretty much a race distance. So that's extremely encouraging.
"Hopefully it bodes well for the weekend because the most important thing is to see the chequered flag on Sunday and that in itself is an enormous challenge. We've learnt some valuable lessons today, an awful amount of information to look at and to be honest with you it's the first real opportunity the drivers have had to drive the car properly without it being interrupted at any different part of the lap or the circuit."
Red Bull believe plenty of that ground can come from improving the power delivery of the Renault V6 power unit, with Horner admitting to Sky Sports F1 that the RB10 is currently not the easiest to drive.
"Our car is less refined at the moment than others because the power delivery, the way the energy recovery system is delivered into the engine unit, is still very aggressive," Horner said in a later appearance on The F1 Show.
"So you're getting these twitches [of the car] and you hear the drivers complaining about the driveability quite a lot. Until that's smoothed out with the software changes that you're permitted to make we're going to continue to get that. But it's a big step forward here."
Vettel had a rare off-course moment during Practice Two and Horner added: "It's software systems within the engine management system that are having to be made and upgraded to assist that [driveability]. It's not just the acceleration out of the corner; it's when you are under braking and how the system is harvesting the energy that affects the brakes and the balance and creates the car to be very nervous on entry to the corner. And there's as much time loss in that as getting out of the corner."
Although Red Bull's surprise Friday form means that, unreliability or driver mistakes aside, some of the bleakest post-testing predictions for their Melbourne weekend may not now come to pass, Horner made clear that the World Champions are still very firmly in catch-up mode.
"In many respects this is where we'd ideally have liked to be at the first test but that wasn't the case and we've got some ground to make up," he admitted.
Just how much will be revealed over the next forty-eight hours.