'Hungry' Daniel Ricciardo expects more podiums to arrive as Red Bull hunt Mercedes
"We're in a good position to make bigger strides," warns Aussie
By James Galloway
Last Updated: 26/03/14 1:41pm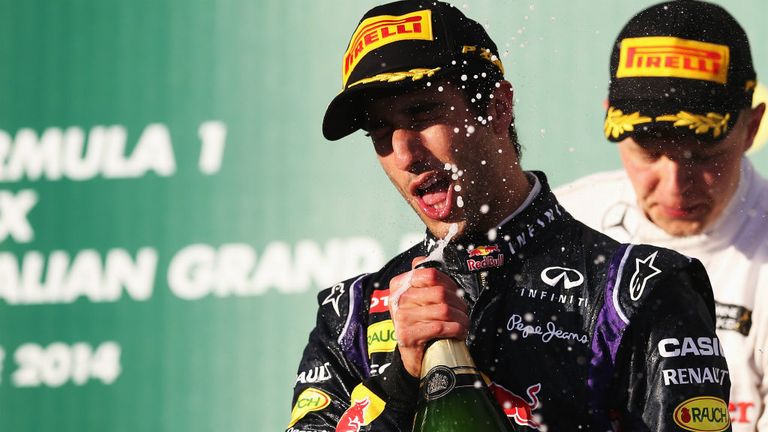 Although Ricciardo's exclusion from the results of his home race means what was the 24-year-old's first F1 career podium finish has been wiped from the record books as things stand pending the outcome of Red Bull's forthcoming appeal, he insists he "won't forget in a hurry" the "very surreal" experience of standing on the rostrum.
And in any case, with Red Bull themselves admitting the performance of their car in Melbourne proved a surprise after a troubled-filled winter, Ricciardo is expecting to get more chances to make the top three over the forthcoming races as the World Champions start to properly unlock the car's absolute competitiveness.
"Albert Park's made me hungry to get on the podium again - and I think we've got a really good chance of doing it," Ricciardo told Red Bull's official website.
"The work we did in the winter targeted reliability rather than performance. It was only in Melbourne that we got the opportunity to start working on a set-up.
"The RB10 surprised us by being pretty competitive in the dry and very competitive in the wet. It's going to get much better as we dial it in over the next few races and catch up with those teams that did more miles pre-season."
Having won four consecutive championship doubles and the half the number of grands prix to have taken place since 2009 prior to this year's season-opener, Red Bull have accepted they are in a game of catch up to Mercedes with Team Principal Christian Horner suggesting this week that the Australian GP victors were even quicker than they looked last weekend.
Ricciardo agrees Mercedes have a clear pace advantage at the moment, but has warned Red Bull are in position to start eating into that.
"At the moment, we're in the battle to be the second-best team," the former Toro Rosso driver added.
"Obviously that isn't where we want to be but it's exceeding our expectations of only a few weeks ago. I think once we really get into the setup of the car, we'll be able to close the gap to Mercedes. Obviously they're going to improve too but I think we're in a good position to make bigger strides."
And although he has had the suffer the disappointment of being stripped of his maiden F1 podium in the hours after Sunday's race, Ricciardo insisted he would still have preferred experiencing the moment in front of his home crowd and later being excluded, than never even getting that far.
"Actually it's mostly positives: I did a good job in the car and I got to stand on the Australian Grand Prix podium - and no-one's taking the sensation of doing that away," he insisted.
"What happens next is outside of my ability to control but honestly, I'd rather it went down like this than have retired from the race with a mechanical problem. I'll take a podium and a subsequent disqualification over that any day of the week."