Daniel Ricciardo says he still feels that he finished second in the Australian GP
Red Bull expected to follow a FIA-provided fuel flow sensor in Malaysia
By Pete Gill
Last Updated: 27/03/14 12:01pm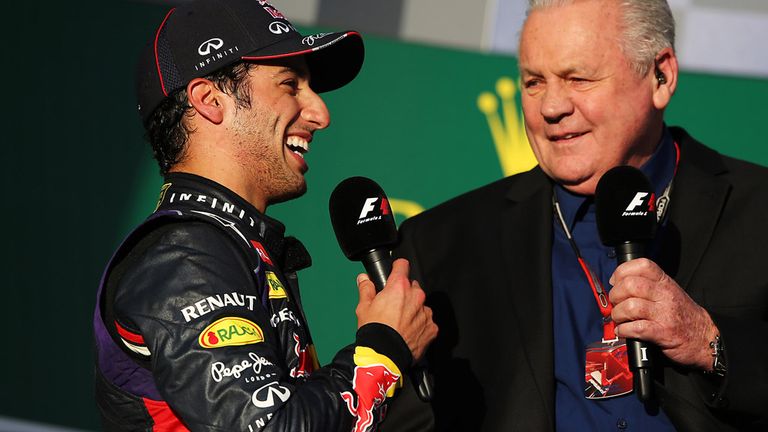 In a ruling that continues to cast a long shadow over the start of the season, Ricciardo was excluded from the season-opening race two weeks ago after Red Bull, who were repeatedly warned during the grand prix that they were in breach of the regulations, were adjudged to have repeatedly exceeded the fuel flow limit of 100kg per hour.
The World Champions, who have launched an appeal against the stewards' verdict, remain steadfast that they did not break the rules, while Ricciardo is still clinging to the positives after an accomplished first outing in Red Bull colours - and the belief that his first trip to an F1 podium was legitimate.
"I stood up on the podium and that feeling won't be erased," the ever-smiling Aussie told Sky Sports News' Craig Slater. "I don't know what the chances are of getting the points back, but I do feel like I got second - I'll carry that with me and hopefully be back there soon."
Ricciardo, who was oblivious to the numerous warnings issued by Race Control to the Red Bull pitwall during last Sunday's grand prix, consistently out-paced World Champion Sebastian Vettel at Melbourne and is confident that his new team can continue to build on their faster-than-expected return to competitiveness after a profound struggle with the RB10 during winter testing.
"I'm really proud of the weekend and how we recovered from Bahrain was really promising. Whether I get the 18 points back or not, it's given me a lot of confidence for the rest of the season," he said. "I've had plenty of positive feedback from the team and they gave me a lot of pats on the back. I still took a lot more positives from Melbourne than that negative on Sunday night, I still see it as a successful weekend."
The hearing into Ricciardo's disqualification, to be held on April 14, has assumed the proportions of a critical litmus test of the sport's new regulations and its management, with Red Bull adamant that the opinion of the Technical Delegate does not constitute a regulatory directive.
"Obviously the team will do everything they can to keep everyone happy, but nobody had the intention of that to happen [disqualification]," added Ricciardo.
With this weekend's Malaysia GP the first of two back-to-back races to be staged before Red Bull's appeal is heard, further intransigence from Red Bull runs the potential risk of the team being excluded from the results of the first three events of 2014. However, it's understood that, mindful of the potential pitfalls, the team will err on the side of caution this weekend and follow the readings of a FIA-supplied sensor to determine their fuel-flow rate throughout.