Mercedes insist fast-recovering Red Bull are still the team to beat in Formula 1
Hamilton, Rosberg and Wolff all conscious of RB10's improvement
By Pete Gill
Last Updated: 01/04/14 5:29pm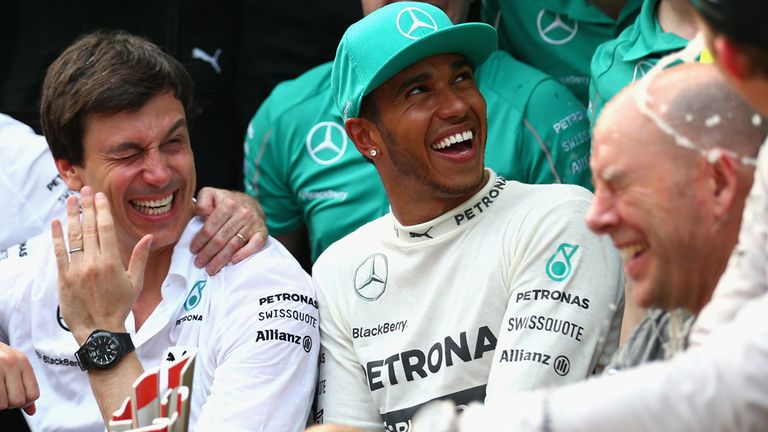 First at the hands of Nico Rosberg in Australia and then under guidance from Lewis Hamilton in Malaysia, the W05 has so far proved to be the leading - and dominant - car of 2014. Yet Red Bull's instant to return to competitiveness after a wretched winter has put the Silver Arrows on high alert, with Hamilton, Rosberg and team boss Toto Wolff uniting to warn of the threat still carried by the reigning World Champions.
"Red Bull are still the reference point in this sport, they are still the best and they were always going to come back strong," Rosberg declared after a qualifying session at Sepang in which he was unexpectedly denied a front-row starting spot by Sebastian Vettel's rejuvenated RB10.
Vettel continued to hound Rosberg on race day, crossing the line just seven seconds behind his compatriot as Red Bull emerged as the only realistic danger to Mercedes as the Brackley outfit secured their first one-two triumph in F1 since 1955.
"We have came from far away and we have to celebrate our victories but we saw Sebastian Vettel pressuring Nico here and when you consider that they didn't do any testing - or at least far less than we did - they are a serious threat," cautioned Wolff. "They are still the benchmark. They are four-times champions and we have to keep pushing because they will be there."
For Hamilton, World Champion Vettel was just a distant speck in his mirrors throughout the 56-lap race, but the 2008 World Champion still saw enough to warn his team that Red Bull, having fallen the proverbial mile behind in winter testing, are already closing in fast.
"Sebastian was massively quick," Hamilton told reporters. "He was applying pressure to Nico and looking at their pace, their car is just as quick as ours through all the corners; it's just a little bit slower down the straights.
"I have no doubts at all that Renault are going to fix that and when they do, you're going to see a big race between us and the Bulls. They still have a fantastic car. I've looked at the GPS; they had the same speed as us through all the corners."
Yet while the RB10, in defiance of its winter travails, has emerged as the closest challenger to the W05, the widely-acknowledged powertrain weakness in the Red Bull package is expected to be more apparent in Bahrain this weekend.
Ferrari, who will introduce a suite of upgrades to the hitherto disappointing F14 T in next month's Spanish GP, are confident their superior fuel efficiency will propel them above the World Champions in the fluctuating pecking order in the desert, while Sky F1 columnist Mark Hughes believes 'the repeated low-speed acceleration zones of Bahrain will probably not suit Red Bull as well as the extended high-speed corners of Malaysia and so we may see Williams and McLaren close back up again there'.
Stung by their worst season in living memory last year when they failed to score a single podium finish, McLaren launched their MP4-29 in a safety-first mode for the opening races. But while the characteristics of the Malaysia circuit disguised its impact, the team are confident that the new nose and front-wing they introduced last week will provide tangible benefits in Bahrain.
"We are clearly lacking in downforce, particularly in the high-speed sections," said team boss Eric Boullier. "We were focussed on reliability for these early races and so our development evolution is at a different phase to those of other teams."
Yet for all the upgrades, improvements and warnings, a third successive victory for Mercedes is this Sunday's likeliest outcome, with the chasing pack still expected to be distant contenders until Spain at the earliest.