Red Bull hit back at Mercedes as fallout from 'Fuelgate' controversy continues
'Red Bull Spy' argues title rivals 'rattled and sweating'
By Sky Sports Online
Last Updated: 24/04/14 8:24am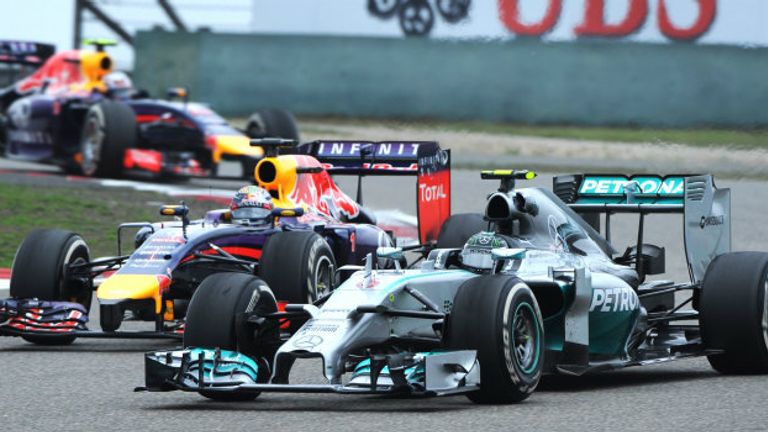 The release of the International Court of Appeal's full verdict into last week's hearing, which upheld Red Bull's exclusion for infringing fuel-flow rates, detailed that in their written submissions Mercedes had called for "a more severe sanction of a ban of no less than three races, plus a disqualification for a further six months, suspended for a year" to be imposed on the World Champions.
Mercedes, however, stressed during the course of the Chinese GP weekend that by the time their lawyer delivered their views to the court in Paris they had toned down their stance and instead called for a suspended sentence only, which took precedence.
Nevertheless, Mercedes' active appearance at the hearing has been viewed in many quarters as essentially the Brackley team's 'payback' for the strong opposition Red Bull took against them in their 'secret' tyre test hearing last season.
Delivered through the acerbic, and anonymous, mouthpiece of their 'Red Bull spy' in a post on the team's official website, the World Champions have now had their say on why they reckon Mercedes got involved.
'The big news we're digesting is that the playful scamps at Merc decided to have a good old sticky-beak at our appeal and requested we receive a three-race ban,' the post read.
'There's a few pursed lips from our management at that but they've decided to rise above it and not comment - but down here at the coalface you can be sure we're telling out mates in the next garage along where they can shove that three-pointed star.
'Actually it's quite reassuring: it means we're getting close enough to get them rattled and sweating a bit. Back in February that looked pretty unlikely. At least that's what Spy thinks: it seems we've undergone a change in the last couple of weeks.
'It's going to be a long time before we completely understand this car but we've gone past the stage of just trying to get it to work and are now into the stage of trying to make it go faster.'
In addition to tension with Mercedes, Red Bull also become involved in a public war-of-words over the course of the Chinese GP with McLaren over the services of leading aerodynamist Dan Fallows.
Mercedes' fourth consecutive victory in last Sunday's Chinese GP has increased their Constructors' Championship lead over holders Red Bull to 97 points.