Adrian Newey signs new multi-year Red Bull deal, but role set to extend out of F1
Star designer will work on "new projects" and only be "advising and mentoring" F1 team as part of extended agreement; Ferrari had made big-money move to try and lure designer to Maranello
By James Galloway in Montreal
Last Updated: 08/06/14 11:38pm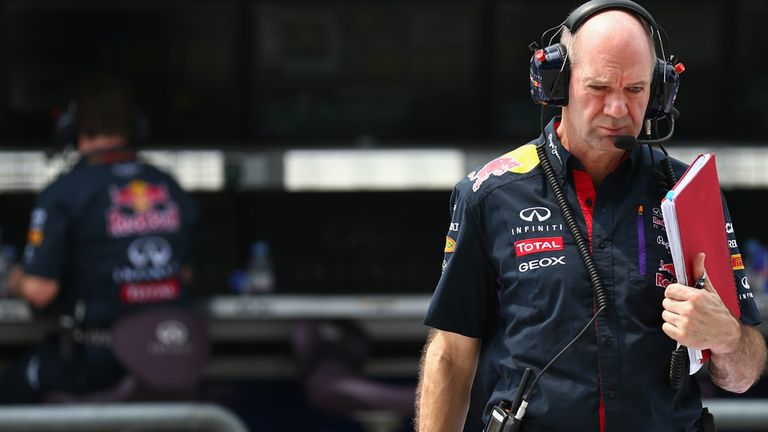 The future of Newey, who joined Red Bull when they were still a midfield team in 2006 and has since helped turn them into a multiple championship-winning force, has been at the centre of fevered speculation in recent weeks following the revelation that he had been offered a 'name-your-price' deal to join struggling rivals Ferrari.
Although Newey said ahead of the Monaco GP that he would stay at the reigning World Champions for the "foreseeable future", the ambiguity of the statement left room for interpretation as to how long the multiple title-winning technical chief was intending to stay at the helm of their technical department.
Red Bull have now announced that the 55-year-old has committed to a multi-year deal, but the team's explanation of Newey's responsibilities going forward implied he would be taking some level of day-to-day step back from their F1 operation.
"As part of this new agreement, Adrian will work on new Red Bull Technology projects, as well as advising and mentoring Infiniti Red Bull Racing as it develops its Formula 1 cars over the next few seasons," Red Bull's statement read.
"The details of the new projects will be announced in due course."
"I am looking forward to some different challenges, I've had a great time in Formula 1, but it is time to get involved in different things," Newey told Sky Sports F1.
And despite Red Bull saying Newey would continue to be involved, the design guru has made it clear that after the initial 2015 design is signed off he will be taking a major step into the background.
"Slightly with next year's car, I will be involved in the initial layout and stuff then in the future I will be involved with the guys in the future just mentoring them and stuff and being an advisory really."
Newey has been strongly linked with designing an Americas Cup boat and he admits he is now looking for challenges outside of motor racing:
"I have loved the career I've had, but I feel I need some new challenges and stimulations. I said I didn't want to spend my whole career purely in motor racing and now it is time to look at a few different things."
Reports in Germany on Sunday suggested that Red Bull are building a technology centre adjacent to their UK F1 base with plans afoot for concepts from "the innovative street car to the aircraft".
Speaking on Sky Sports F1, Johnny Herbert reckoned the move is a good one for Red Bull, even if Newey is taking a less 'hands-on' role.
"I think that's the thing: don't let Adrian Newey go to any other team. Keep him in house, let him have that freedom to develop whatever he wants: that could be an America's Cup boat, who knows?" he said.
"But I think it's really a key important factor that Red Bull have still got Adrian there."
Meanwhile, former World Champion Damon Hill questioned his desire for further F1 success - Newey having himself questioned the sport's newfound 'green' credentials in the recent past.
"He's had the most enormous success and 'genius' is the word that gets bandied about a lot," he said. "But after a while, you're going around the same loop. He's won four World Championships on the trot, he could go on to Ferrari and try his hand at doing it again at another team. But what's to be gained by doing that? Because he'd be in the same business.
"I think that by expanding his horizons, it sounds like a great move for him; an opportunity to look at life elsewhere - and maybe in a place where he's not so constrained, because the regulations have got tighter and tighter and tighter over the years."
Whilst Newey may be taking more of a background role in the future, Team Principal Christian Horner says it will not affect performance.
"First of all we have tremendous strength in depth in the team," Horner told Sky Sports F1.
"Also Adrian is still going to be involved and mentoring and advising and drawing and contributing to the team. So it is great for the guys, great for Red Bull and great for Adrian as well."
Horner also revealed how long "multi-year" actually is. "It'll start from the beginning of next year. It's great news for us that Adrian's committed his future to Red Bull for the next three years, taking on other activities and projects as well which will be announced a little later in the year," he added.
With Adrian Newey being less involved in F1 next year, albeit still with Red Bull, and Ross Brawn happy fishing, it's the end of an F1 era

- Martin Brundle (@MBrundleF1) June 8, 2014