Daniel Ricciardo aware his first F1 win only likely to increase Vettel's motivation
Australian not expecting any 'home advantage' for Red Bull in Austria
By James Galloway
Last Updated: 19/06/14 6:42pm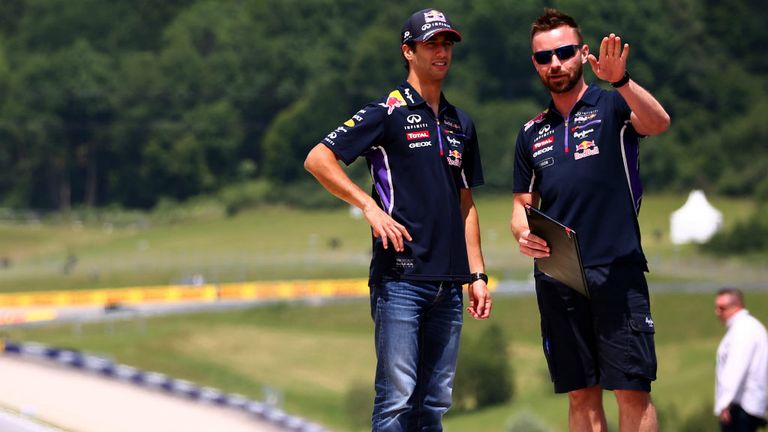 Daniel Ricciardo expects his first F1 win will only make team-mate Sebastian Vettel "more motivated" to beat him, with the Australian guarding against complacency despite currently holding sway in their intra-Red Bull battle.
Underlining the unexpectedly strong start Ricciardo has made to his career at the team relative to the quadruple World Champion, the 24-year-old Australian took advantage of Mercedes' reliability problems at the last race in Canada to claim his maiden victory with Vettel, despite qualifying and initially running ahead, having to settle for third.
Ricciardo now sits two places and 19 points ahead of Vettel in the Drivers' Championship and has yet to be beaten in race conditions by the sister car when both have made the chequered flag.
With Vettel having become used to dominating both his team-mate and the sport in general over recent seasons, the scale of the challenge presented by Ricciardo is arguably something the 26-year-old hasn't previously experienced on a consistent basis in his F1 career. However, the grid's newest race winner says he was impressed by Vettel's gracious reaction after the Montreal result and is now expecting more pressure to stay ahead.
Asked about his relationship with Vettel in Thursday's Drivers' Press Conference at the Austrian GP, Ricciardo said: "It's still okay. He showed a lot of respect and good sportsmanship after the race. Obviously he would have loved to have been on the top step [of the podium], but he was happy for me that I got it. So it's good.
"It's just going to make him more motivated so I obviously can't rest now and can't get too complacent. Keep pushing and hopefully it works well for both of us to get further up the grid."
The drivers will recommence their battle for supremacy on Red Bull's home soil this weekend as the Austrian GP returns to the calendar for the first time in over a decade.
Only four current drivers have ever raced in F1 at the renamed Red Bull Ring and although Ricciardo did complete some demonstration laps around the circuit last year, not to mention the team having so-called 'home advantage', he isn't expecting such familiarity to count for much.  
"[I've] done some simulator last week, like a lot of us probably though, and last year I did a filming day with Toro Rosso. So I've been around the track, but just a few times," he explained.
"It's a short lap and I think we won't take too long to adapt and get used to it. Qualifying's going to be really tight, especially by the time that comes [as] we're all going to have our eye in.
"I think mistakes are going to be costly here so it's about putting it all together. But it should be fun. I don't think I've got an advantage, but by Saturday we'll be up to speed."
Nonetheless, Ricciardo accepted it is a special weekend for the World Champions, particularly on the back of his breakthrough win.
"It's obviously exciting for us now and we've got a bit of steam from the last race, so I think we're all really excited. The home one for Red Bull," he added.
"We'll see what happens on track. Hopefully we will be strong again but, as the weekend goes, it's going to be a lot of fun – not only for us drivers, but for spectators and everyone. I think they're going to put on a good show."
This weekend's Austrian GP is live only on Sky Sports F1. Race Day coverage begins with the Track Parade at 11.30am on Sunday