Daniel Ricciardo thinks Red Bull back on the up in Britain after Austria travails
Sebastian Vettel, though, wary of Ferrari in battle behind Mercs
By James Galloway at Silverstone
Last Updated: 04/07/14 6:07pm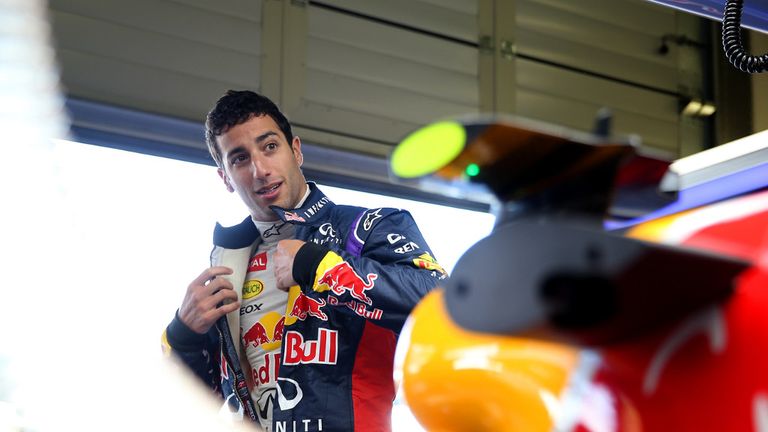 Daniel Ricciardo is confident Red Bull are in shape at Silverstone to prove their dismal Austrian GP was a "one-off", although team-mate Sebastian Vettel isn't yet sure that the World Champions have returned to the second-fastest team behind Mercedes.
Despite the British circuit's array of high-speed corners playing to Red Bull's traditional aerodynamic strengths - Sky Sports F1's Martin Brundle reported from trackside during Practice Two that the RB10 appeared the best car through the sweeping turns - the gap between the World Champions and Mercedes remained a full second in both of Friday's practice sessions.
Indeed, although fourth and fifth on the timesheet, it was Ferrari's Fernando Alonso who was the closest to the two dominant Silver Arrows - although the Scuderia have regularly flattered to deceive on Fridays so far still season.
Still, after enduring a miserable home event in Austria a fortnight ago when they finished only eighth, Ricciardo is optimistic Red Bull have recovered lost ground in the pecking order and can now close the gap to Mercedes on Saturday.
"Today the car behaved better in medium-high speed corners," the 25-year-old, who escaped a penalty for overtaking Alonso under the red flag in P1, told reporters. "We were back to our stronger point there and I think Austria for now is a one-off.
"On the prime [tyre] it was really, really good; with the option we could definitely do better there. So again there's some positives. If we get it all together tomorrow we should be closer to the Mercedes' and hopefully ahead of the Ferraris as well."
Team-mate Vettel, however, still needed more convincing that Red Bull had re-established their pre-Austria position as Mercedes' nearest challengers.
"I'm not sure. I think Ferrari was quick as well today," he countered.  
"It [the day] was interesting. Obviously not sure what the weather will do tomorrow and Sunday. Overall it was okay but we can still improve from where we are."
Although conditions proved uncharacteristically warm at Silverstone on the opening day - there is the more perennial British GP threat of rain showers heading into the weekend - the strong gusts of wind that routinely sweep around the one-time RAF airfield were in growing evidence in Practice Two.
"We had a bit of a head wind through Maggotts and Becketts today, which helped the grip, so hopefully that stays there and it should be a lot of fun in qualifying tomorrow," Ricciardo added.
Watch the 2014 British GP live on Sky Sports F1. Our extensive coverage of the Silverstone race weekend continues with Qualifying from midday on Saturday.