Susie Wolff and Daniel Juncadella will join Pastor Maldonado at this week's Young Driver Test
Williams announce their drivers for Silverstone
By Mike Wise
Last Updated: 16/07/13 11:40am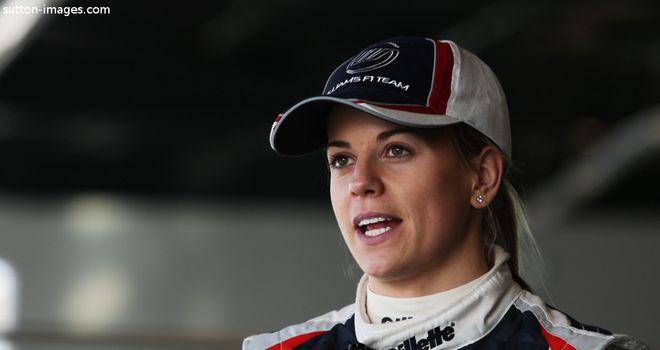 The test is the first Wolff has undertaken on a circuit in a contemporary car, although the 30-year-old was the first driver to take the wheel of Williams' current FW35 when she performed an aerodynamic test at Idiada in February.
Named as a Development Driver in April 2012, Wolff made her F1 debut in an FW33 at a team event, also at Silverstone, last October.
Juncadella took the Formula 3 Euro Series title in 2012 having also won the 2011 F3 Macau Grand Prix and in the Formula BMW category. The 22-year-old currently races in the German DTM Touring Car series.
He will run on Wednesday while Wolff takes over on Friday, the final day of the test. Inbetween times, Maldonado runs as a result of the FIA's decision to widen the scope of the test in the wake of the tyre failures seen at Silverstone during last month's British GP. The Venezuelan will evaluate the new tyres Pirelli are introducing at the forthcoming Hungarian GP.
"It's a fantastic opportunity for me, so now it is up to me to prepare myself the best that I can for the day," said Wolff, whose responsibilities at Williams also include working in their simulator.
"It's going to be a big challenge but the most important thing is to do a solid and consistent job and to give good feedback to the team to be able to prove I am at the level to compete on a day such as this.
"Most of my work is based in the simulator which is why this day is so important for me. It will give me a better understanding of what the car is like on track and how that correlates to the simulator which will also help further develop the work I can do there."
"It's an important test for any young driver as there aren't many opportunities to drive a Formula one car," added Juncadella.
"I had my first taste of Formula One as a prize for winning the 2012 Formula 3 Euro Series title, but it was a 2009 car so I therefore see this as being the real deal, having the chance to drive a current car in a full test."
Williams test line-up:
Wednesday - Daniel Juncadella
Thursday - Pastor Maldonado
Friday - Susie Wolff.