Williams driver Valtteri Bottas said his programme on Thursday 'went exactly to plan'
Happy with reliability, Finn says he's now looking for pace
By Mike Wise in Manama
Last Updated: 28/02/14 6:04am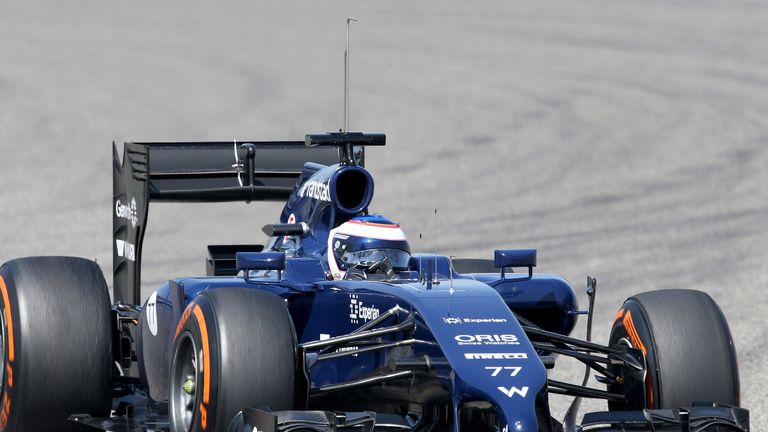 But such was the Williams driver's performance on Thursday, it was easy to see where he was coming from.
The Finn completed a race simulation during the afternoon, the 24-year-old highlighting the reliability of Mercedes' power unit once more by running well over the 57-lap race distance. A quick break and then Bottas was back out again, this time demonstrating the FW36's pace to go second fastest behind the day's pacesetter, Sergio Perez.
By the chequered flag, he had racked up a total of 128 laps. But never mind Mercedes' reliability; in terms of going the distance - a real virtue this season, of course - it's Williams themselves who are increasingly showing the others the way with a car that, uniquely, has yet to break down on track.
"We knew it could be difficult and we've had some problems, we've lost some days and some days we didn't do so much mileage. But now, my last two days have been exactly to plan and that should be our target," Bottas said on Thursday evening.
"It gives confidence that we can run the car pretty much all the time without problems. On long runs, cooling-wise, everything has been on target."
His time, 1:36.184s, was set on medium tyres and still almost three seconds off the time Nico Rosberg managed in qualifying trim for Mercedes on the last day of last week's test. Williams' rivals might be forgiven for casting envious eyes at their reliability record but according to Bottas, it means little if it's not allied to performance.
"We need to be focusing on how quick the car is not how easy it is," he asserted. "But driveability-wise, I think this season there's more work to be done from pedal maps and also the engine side to make it more smooth with all the torque.
"There's a lot of different things, a lot more to set-up with this car than last year's."
Similarly, Bottas might be forgiven for looking beyond attributes - reliability and driveability - that the technical changes have placed particular emphasis on. The notion of cars struggling to the finishing line in Melbourne seems a real anathema to a driver who spent most of his rookie season at crawling pace.
Bottas certainly thinks things are shaping up better at Williams than they were this time 12 months ago. "It's different. It's more positive definitely," he said. "In the last test last year, we started to see that maybe it's not looking that great. At the moment, I think it is looking better for us than last year.
"A lot of it, of course, is down to the engine - we definitely have the right engine at this time of the year. We'll see in the future, but all the changes happening at the team, I think finally it starts to turn into performance."
The changes Bottas refers to have been coming thick and fast. Appointed in the middle of last year, technical boss Pat Symonds is presiding over a re-furbished department, with new recruit Rob Smedley soon to join former Ferrari cohort Felipe Massa at the team.
"The development this season will be very important - I think maybe more important than any season so far, for many years - so we must be in that race also, not just the first three races," Bottas said.
"I'm confident we can keep up. We have a stronger team than last year."
And if Bottas does go the race distance again in Melbourne, can he score points? "Possibly. We're still seeing many teams struggling to do long runs. For us, it's definitely possible to make a race distance in the first few races, so that should be our target.
Perhaps casting his mind back once more to the litany of Q1 exits last season, Bottas added: "But not only that: we need to do it as quickly as possible."
The third and final pre-season test starts on Thursday morning in Bahrain. The Sky Sports F1 Online team will be providing live commentary from dawn until dusk on all four days, with live updates from trackside also on Sky Sports News.