Ferrari boss Stefano Domenicali admits Mercedes and Williams 'in very good shape'
Italian stresses it's crucial Ferrari on top of reliability for Oz
By James Galloway
Last Updated: 03/03/14 3:23pm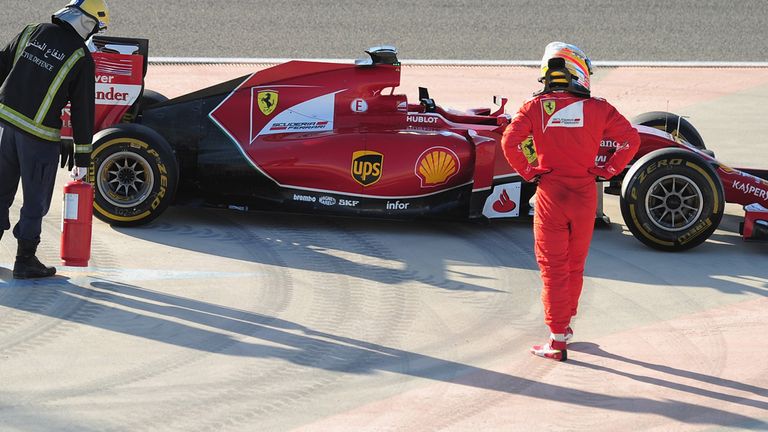 The two Mercedes-powered outfits topped the combined timesheet and mileage charts across the two Bahrain tests with the rise of Williams a particular surprise after the Grove outfit's miserable 2013 campaign.
Ferrari, in contrast, have experienced a steadier winter with the F14 T generally proving to be amongst the most reliable cars in the field, but yet to show any spectacular single-lap pace.
At the third and final Bahrain test, Fernando Alonso's best time was a second adrift of the benchmark laps set by Williams' Felipe Massa and Mercedes driver Lewis Hamilton.
Domenicali, Ferrari's Team Principal, admits Mercedes and Williams head to the first race in Melbourne next week on the back of stronger winters, with his own team still having plenty of problems to resolve.
"With such an incredible change in the regulations only three sessions are not enough because every day that you run you discover a lot of things that have to be fixed," he told Sky Sports F1.
"For sure at the end of this session we have done around 4,000km, Mercedes almost close to 5,000km and Williams more or less close to that number.
"That means at the end of the day they have prepared better the start of the season. It's a fact so we need to start from this consideration knowing there is a huge amount of work to be done. But that's normal in such a different environment.
"At the beginning of the season reliability will be the key point. Then of course you start to development and fix the problems that you have seen. I think we can consider what we have seen in the first three sessions Mercedes and Williams seem to be in a very good shape."
Nonetheless, Domenicali thinks Ferrari have laid a strong foundation with the F14 T and now must focus on ensuring their car is reliable for what are likely to prove unpredictable opening rounds to the season.
"I think we have a good base and we need to develop it and make sure that we solve all the things that are on the table," the Italian added.
"There is a lot of potential to be deployed or discovered and this is the objective that our engineers have to fix as soon as possible because the points that we will score at the beginning of the season will be very heavy. Even if they are not double they will be very heavy."
Ferrari, who are desperate to return to world championship-winning ways this year having last won either title in 2008, trailed only Mercedes and Williams on the winter mileage charts (4,489km) but were still tripped up by intermittent reliability problems, including a gearbox issue on the final day in Bahrain.
Asked if he was confident the F14 T would hold together to make the chequered flag in Melbourne, Domenicali expressed hope that it would and explained that such is the complexity of the 2014 cars that even the smallest problems can create bigger headaches.
"Of course that's the objective," he replied. "It's easy to say but we have seen, for example, in the last two days little issues took a couple of hours because you have to disassemble the engine, the gearbox with all the systems and then you put it back.
"In normal conditions [in the past] maybe in 20 minutes everything was fixed, so we also need to get used to the massive difference that is the car in terms of layout and management. This will have an effect on not only us but everyone during the weekend because if you have an issue, depending of course what it is, during FP3 then it will be quite interesting and challenging to be ready for qualifying.
"So I think there are a lot of things that everyone has to learn and there are some teams who have shown to be a little be ahead of the others, but let's see what happens when it counts."