Williams thrilled with Austrian GP performance despite failing to convert pole
Valtteri Bottas gives team first silverware in over two years
By William Esler
Last Updated: 22/06/14 6:14pm
Williams were thrilled with their first podium finish of the season at the Austrian GP, despite failing to convert their front-row lockout into victory.
Felipe Massa ended Mercedes' qualifying domination on Saturday and led the opening stages of Sunday's race before being overhauled by Nico Rosberg and Lewis Hamilton after the first round of stops.
Team-mate Valtteri Bottas had also started on the front-row, and ran second into the middle stint, but he too was powerless to fend off the Mercedes cars over the full distance - although the Finn did cross the line in third place to give the Grove-based team their first silverware since Spain 2012.
"So happy with that today," Deputy Team Principal Claire Williams told Sky Sports F1.
"We always knew that the Mercedes would probably overtake us and take the victory, but to come third and fourth is wonderful and it is after a lot of hard work by a lot of people. I am just so happy for them that they have got this reward and it is also Valtteri's first F1 podium and he has such a great job for us. I am just so thrilled for everyone."
Asked if she had any regrets about not beating even one of the Mercedes cars, Williams added: "I think those Mercedes just have so much pace right now that where we are is true to form."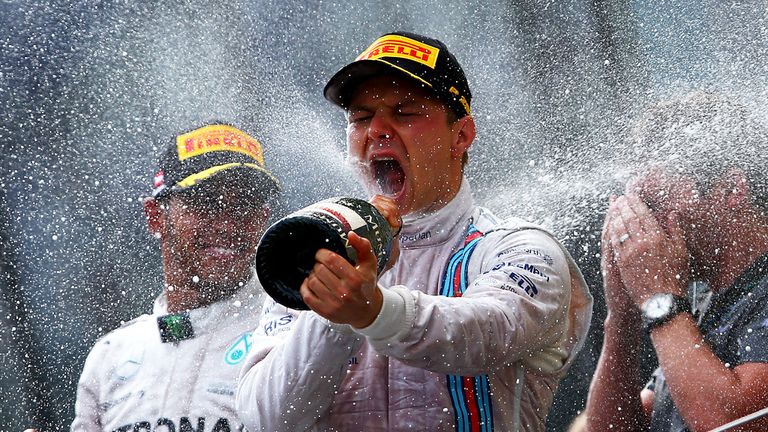 Williams also showed good qualifying pace at the preceding event in Canada and Williams is hoping her team can impress in front of their home crowd at Silverstone next time out.
"We are lucky that we have the Mercedes engine, which everyone knows is the most competitive out there, so on a track like Silverstone the car should be well suited," she said.
"I think it is fairly similar in characteristics to here so if we can build on this momentum and have another great result at our home race would be fantastic."
Having never finished higher than fifth during his F1 career, Bottas was delighted with the result, but was keen to give the team credit for the performance.
"We are very happy and I think it is down to the team," Bottas said. "There have been many times we have had a good qualifying, but on the Sunday we haven't been able to turn that into a good result and now we have in third and fourth which gives the team a lot points. That is down to analysing every little detail in the last few races and the mistakes we have been doing and not repeating them and fixing them."
Bottas crossed the line just eight seconds behind race winner Rosberg, so are Williams closing the gap?
"We need to see in the next few races if this was only a one off, but we know ourselves we are making progress," the Finn added. "If they are not then it is good for us, but I think we need to wait a few races and see where we are, but so far I am very happy with what we have done."
For poleman Massa, he missed out on arguably his best chance of a race win since Brazil 2008, but the Brazilian refused to blame the team's decision not to pit earlier to cover Mercedes.
"I think the late pit-stop [cost him] not so much as Valtteri stopped after me, but he just passed me on the strategy on the pit-stop," the Brazilian said.
"But I think I was not lucky: when I came back on the track I was just behind one Mercedes [Rosberg] and the other one was very close with hot tyres [Hamilton] and he passed me easy and then I lost a lot of time after on the same lap with a car going slowly into the pits and it was enough to lose a position.
"So it is a little bit of a shame, but I am still happy with the result, with my job and the pace and everything. Unfortunately it was not enough to be on the podium, but I think it was a great result for the team.
"It was good points and looking at how many points we have lost up until now, maybe this can be the restart from now to the end of the championship which I am really looking forward to."