Di Resta: Best we could do
Paul di Resta said Force India's double points finish in the rain-affected Malaysian Grand Prix was the best they could have hoped for.
By Mike Wise at Sepang
Last Updated: 25/03/12 3:26pm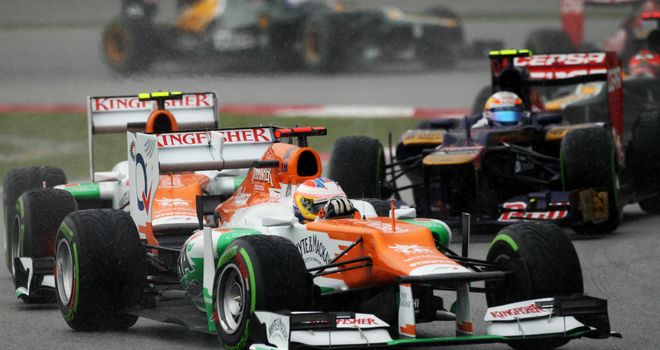 Paul di Resta said Force India's double points finish in the rain-affected Malaysian Grand Prix on Sunday was the best they could have hoped for given the current performance of their car.
Starting 15th on the grid, Di Resta overcame a collision with Williams driver Pastor Maldonado shortly before the race was red-flagged on lap nine when a thunderstorm descended on Sepang.
With the cars stuck on the grid for 50 minutes as the worst of the weather passed, Di Resta made gains on intermediate tyres after the race restarted.
With team-mate Nico Hulkenberg claiming ninth place, the Scot was understandably pleased with the team's result but was not getting carried away after admitting that he found the race tough going after stopping again for slicks.
"I think that given where our performance is, to come away with a double points finish and seventh place is the maximum you could ask for really coming into this weekend," he said. "We needed to get things to work.
"The main thing was to stay out of trouble and we were very quick on the intermediates. When we had to be our performance was strong and we scored some valuable points.
Incident
In a race packed with incident throughout the field, Di Resta's own highlight was a duel with the Ferrari of Felipe Massa after the re-start when the field had switched to intermediates.
It was settled in the Force India's favour on lap 26 and he then chased Mark Webber's Red Bull for a while before stopping again for hard Pirellis.
Things became a little more difficult after that, though, and Di Resta lost out to Lotus' Kimi Raikkonen before also being passed by Bruno Senna's Williams.
"There was a lot (of incident) but that's the main thing: it was pressuring Massa because he held me up quite a bit. Once I got clear of him I was able to crack on, and that was the main thing," he said.
"When you're racing a Ferrari, that gives a bit of credit as well. But we were as quick as the Red Bulls at some points. When the conditions changed and everyone's confidence was a bit higher, it showed where our car was - and it's a bit slower than everybody that was in front of us."
Di Resta said before the race that the VJM05 had struggled early on during race stints in Australia but pointed out that judging any improvement in Malaysia was difficult.
"That's a completely different race. It's a difficult thing to hold on to. I just think as a general performance it's a hard thing to judge too much on. But we should go away fairly happy with what we've achieved in the first two races," he said.
No complaints
And in what can be the most gruelling race of the season, the wet conditions also gave the drivers a break in terms of the temperatures they experienced.
"I feel all right," Di Resta added. "Obviously most of the race is wet. It's a shame not to do a full dry race and see where your fitness is at peak temperatures and stuff. But you've got to be prepared should it happen. Yesterday in qualifying was tough.
"It was the same for everybody. I'm sure nobody is really complaining after that race.
"You will feel it the second day. That is in terms of dehydration sense, whereas I think that given the ambient was so much lower, we shouldn't feel that too much."