Force India target move up the grid with £50m investment in infrastructure
Injection of funds aimed at bringing technology up to date
Last Updated: 22/11/12 8:05am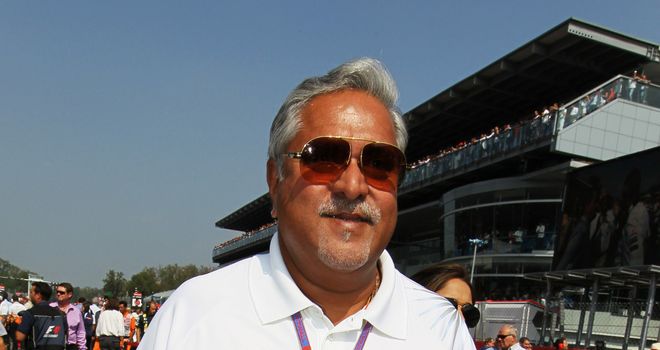 The Silverstone-based outfit have made year-on-year progress since Mallya took over and rebranded the then Spyker outfit in late 2007, and although they are set to finish one position lower in the Constructors' Championship than they did last year, will still finish with a record-high points tally.
And with the team keen to take the next step towards the top outfits in F1 from 2013, team co-owner Mallya says he and the board have given the green light for a significant investment programme.
"We had a board meeting in India after the Abu Dhabi Grand Prix and the board has approved a £50 million capital investment programme for the team," the Indian businessman said.
"We are going to invest heavily in new technology and give more tools to our design team to try and move further up the grid."
The Indian believes the team can be more than pleased with their performances this season, particularly as the bulk of their infrastructure dates back to the squad's original Jordan era.
"Looking back at the season so far, we have every reason to feel proud," he said.
"We've scored more points than in any previous season and every year we've demonstrated that we've gone up the ladder.
"And we've taken fairly significant steps, not just baby steps. Given the tools that we have, which are mostly of the Jordan era, we have done exceptionally well."
This weekend's season-ending race in Brazil marks the Force India swansong of Nico Hulkenberg, the German leaving for Sauber over the winter after two seasons at Mallya's team.
Looking back on his time at the squad, Hulkenberg said he had learnt a lot and that the decision to switch to their rivals hadn't been an easy one.
"First of all I want to thank everyone for believing in me and giving me the chance to return to Formula 1 this year as a race driver," he reflected.
"I've learned a lot during the last two seasons, even as a third driver, and the time has flown by very quickly. It's a great team of people; they're fun to work with and I think we can be proud of the results we achieved together.
"That's why it was not an easy decision to leave, but I'm happy to be leaving with good memories. The task now is to end the year in style with a great result."