Paul Di Resta still does not know who will be his team-mate at Force India
Scottish driver still in the dark over who the team will pick
By William Esler
Last Updated: 14/01/13 9:36am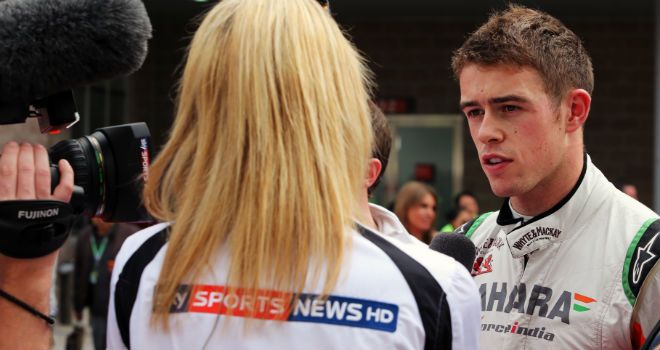 Test driver Jules Bianchi and the team's former driver Adrian Sutil have been strongly linked with the seat alongside the Scot, but with the days counting down to the launch of their 2013 car on February 1, there has still been no announcement from the Silverstone-based squad.
"I am surprised there has been nothing yet," Di Resta said.
"The team have said they will announce it in good time as to where they are going to be, and I have to respect that."
When asked whether it had an impact on him not knowing who he will be working alongside, the 26-year-old added: "Ultimately it does.
"But at the end of the day I know my job, and I am fully focused on what I need to achieve at the moment.
"Whether that is managing my time, booking flights, working with the engineers, or whatever.
"I know who my team are, who my mechanics are. There are some new faces in that, which means we will be stronger again.
"But I'm feeling quite good about it, very positive. I've been at the factory and the vibe is very high."
After a disappointing end to the 2012 season, the Scottish driver says he cannot wait to get back in the car, having scored just two points in the final six races.
"For whatever reason nothing went the right way at the end of last season," said Di Resta.
"Essentially you always remember the end of a year more than the beginning, and with my crash as well.
"There were some good drives, some good pace, but it just never worked out.
"I've been through times like that where you just need to dig deep, and eventually you get out of it. Hopefully this year will be the year.
"Obviously, when something bad happens you just want to get back in the car the next week and go again, but there has been this lull.
"All I can say is I'm looking forward to getting in the car on the first of February, and then testing again a few days later."