Adrian Sutil hopes he and Force India can go from strength to strength this season
German in bullish mood after leading comeback race
By Mike Wise in Melbourne
Last Updated: 17/03/13 1:40pm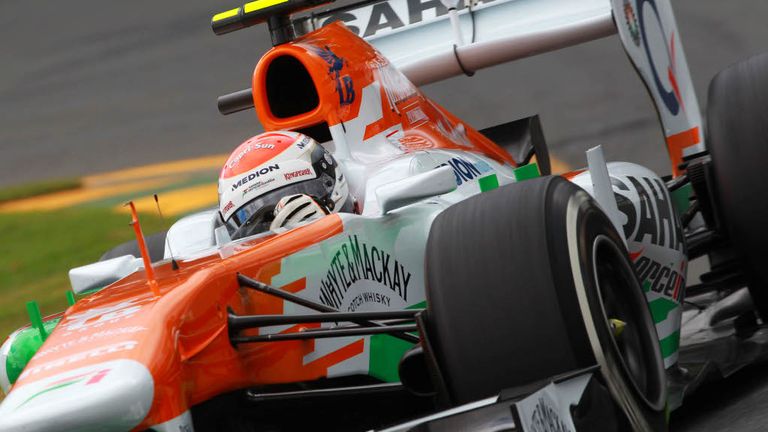 The German eventually finished seventh but it was the fact he actually ran first that grabbed the attention. In fact, Sutil led the race twice after running a different strategy to the cars that started ahead of him.
After qualifying 12th, Sutil was free to choose the harder, medium tyre compound for the race. He was able to move to the front by lap 14 because all the cars ahead of him had to start on Pirelli's supersoft tyres, which rapidly lost their performance and forced them to pit early.
"I wasn't expecting that. I came back to do better and it's a great feeling to be straight up there," said the 30-year-old, who had never led a grand prix before despite making 91 starts.
"I was the first runner on mediums and I knew the first ten were going to pit very early, I was expecting to be near the front. Probably not P1 but I was expecting a certain kind of scenario.
"I knew I was going to lose a few places because I was on the opposite strategy. Nevertheless, seventh position for the first race, it's showed what's possible and is a sign that you should never give up and always believe that everything is possible."
Sutil was also able to fend off Sebastian Vettel during the race's early laps, even though the World Champion - among those to ditch his supersofts early - was on fresher tyres.
The pair pitted in tandem on lap 21 but Force India's mechanics kept their man in front, with Vettel eventually forcing his way past a couple of laps later.
Even so, Sutil, who like race winner Kimi Raikkonen ran a two-stop strategy, led again before making his second stop.
"I was amazed that we could actually be competitive at the front. I gained my first position back after the first pit stop so the pace was really there. I could pull away from Vettel when he was running too close behind me, maybe he destroyed his tyres," he enthused.
"The pace was just there and that was great to see."
Stopping for the last time on lap 46, Sutil's challenge faded in the closing stages as he was in turn forced on to supersofts and passed by both Nico Rosberg and Mark Webber.
"I was fighting for fifth position but I lost it because I was graining at that time," he said. "If that graining couldn't be there, I think I could have finished fifth.
"I think we did all right. It was a good strategy; it was a strategy I thought was the best. We all agreed to it."
Sutil, whose return to the fray with Force India comes a little over a year after he was convicted of aggravated assault, said his time away from the sport might actually help his performances.
"Normally, you expect it takes a little while, maybe a few races. I still believe I can improve myself. This morning in the rain, I wasn't feeling so comfortable - that's where you really need to be at one with the car," he said.
"There's more to come. I can improve a little bit but I think my advantage also comes from having been away a little bit and leading a normal life. It's such a stressful sport and sometimes we have no time to learn."
With team-mate Paul di Resta also two-stopping his way to eighth place, Sutil believes that Force India can have another strong race in Malaysia next weekend.
"We showed that we are absolutely strong enough to score points. I'm always aiming for a podium, for a long time I've wanted to do that. Whenever it comes, I want to be ready. That's a target for this year: maybe it happens, maybe not," he added.
"We were seventh and eighth today. Maybe we can be fifth and sixth in the next race, maybe eighth and ninth - we don't know. But points definitely...every race."