Paul di Resta is confident he can make up ground in the Malaysian GP after qualifying 15th
Force India targets top-ten finish despite Saturday spin
By Mike Wise at Sepang
Last Updated: 24/03/13 2:42am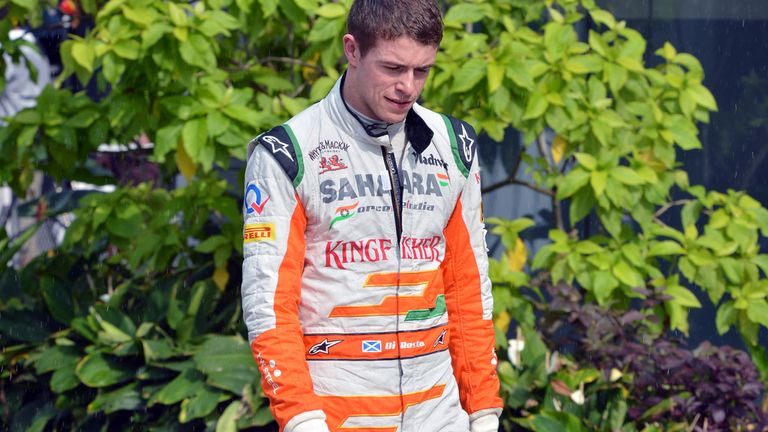 Di Resta was looking likely to join Force India team-mate Adrian Sutil in Q3 until he was stranded out on track when a heavy rain shower hit.
Having pitted for a new set of medium tyres and attempting to beat the weather, the Scot instead spun exiting Turn 7.
"It was a bit of a cock-up on the pitwall really. We misjudged the rain. I think our weather system radar went down with a few other teams, so that probably didn't help," said di Resta.
"Essentially the rain came about three minutes earlier than it was supposed to. We aborted our (Q2) lap to make sure we were the first car on fresh tyres to complete the lap. And as soon as I went through Turn 5 and Turn 6 I could see rain."
Both di Resta and Sutil scored points in Melbourne last weekend and Force India's VJM06 again looks strong, particularly in terms of straightline speed.
Di Resta finished seventh in last year's race after starting from 14th and he is confident of a repeat performance.
"It's probably a bit more frustrating given how easy it was going to be for us to get into Q3 this weekend," he added.
"All you can say is that you've got to look forward to tomorrow because although we've qualified 15th, we're in a lot stronger position in terms of our car's performance."
Sutil lines up ninth but there was also frustration for the German who, having led his comeback race in Australia, had earlier been fastest in Q1.
Having shone in the sunshine, Sutil could only tread water when the rain arrived and admitted that he was struggling to perform on Pirelli's intermediate tyre.
"The car was good in the dry and I felt very good in it and confident. The whole weekend so far has been competitive and I think we improved our pace today," Sutil said.
"In Q1, P1 was great. In Q2, I did my fastest lap on used tyres so also a good performance. Definitely, we were looking at one of the best qualifyings but then the rain came in and destroyed our plans.
"I knew it was going to be difficult in the rain. Normally I like it but with these tyres I just don't feel comfortable - we have so much oversteer.
"We don't know what the problem is. The car is four second slower than the pole position time.
"I've always been very comfortable in the rain but since the Pirelli tyres came in, I've had my difficulties for some reason."