Paul di Resta sees no reason why he shouldn't be in Q3 for Bahrain Grand Prix
Force India driver optimistic after going fifth fastest in opening practice
By Mike Wise in Manama
Last Updated: 19/04/13 6:55pm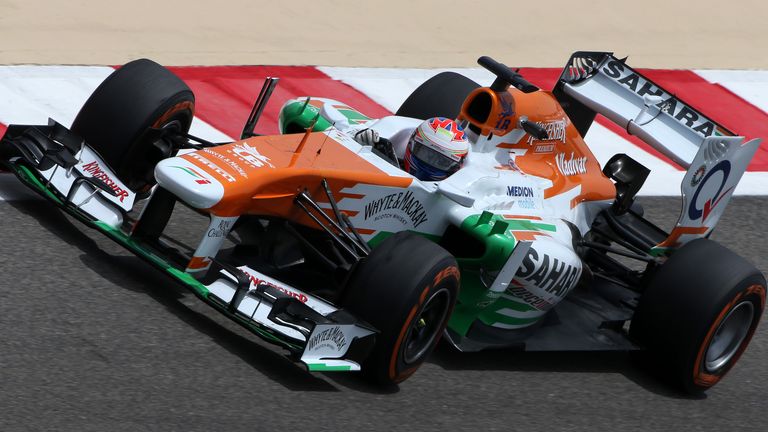 The Scot was fifth fastest in each outing and, placed ahead of the likes of Felipe Massa's Ferrari in session two, not to mention both Mercedes and McLarens, it all points towards another promising weekend for the Silverstone-based team.
"We've had a constructive day," di Resta said. "I think from lap one the car's worked well. We've had issues we've had to address and there were points where it was more difficult in FP2. But eventually we worked back to the level we were at in FP1.
"We're fairly content that we could repeat what we did in Malaysia with the heat, and it's naturally proving the car works much better in these conditions."
That Force India are capable of showing the sort of pace seen at Sepang - before rain spoiled qualifying and faulty wheelnuts ruined their race, of course - was confirmed by team-mate Adrian Sutil, who also made the top ten in both sessions.
With Lewis Hamilton among the big names looking to improve ahead of Saturday's qualifying session, di Resta is taking nothing for granted. Even so, he reckons a place in Q3 is perfectly possible if all goes to plan.
"There is a big difference when you look between cars, where people are and what people are getting out of it. So it could very quickly change," di Resta said.
"Going into tomorrow and tonight, I don't think we want to react too much and just basically build upon what we can learn in FP3.
"I would certainly like to think that Q3 is well on our list, where we are at the moment," he added. So might di Resta feature in fifth place again? "That depends on other people and how they get their act together. I can say that, even on long runs, if we qualified anywhere in the top ten then I'm fairly happy of a repeat of a decent race.
"I'd be well up for it in there, because I believe that our tyre wear and where we are seems to be strong."
Force India have, on the whole, made a positive start to the season. But serving as a further boost to di Resta's confidence this weekend is his performance in Bahrain last year.
Leading a grand prix for the first time in his career, di Resta eventually finished sixth after bucking the trend and running a two-stop strategy.
The frontrunners are once again expected to make three stops on Sunday, with di Resta hinting that he might do the same this time.
"We had a good race here last year - it was a surprise last year where we finished - we did a very good race in terms of strategy," he added.
"The car is stronger this year in terms of speed. If we can pull something off with strategy then obviously that would be a massive boost. But I think, given the speed where we are, we wouldn't be quite as aggressive as we were.
"We will sit down tonight. We've got various engineers in the office punching keys in their computers and coming up with the best options.
"Given the feedback, it's then about them putting it together and trying to predict as much as they can."