Paul di Resta encouraged by his performance in Canadian GP practice on Friday
Force India driver has "high hopes" of first podium finish
By Mike Wise in Montreal
Last Updated: 08/06/13 7:40pm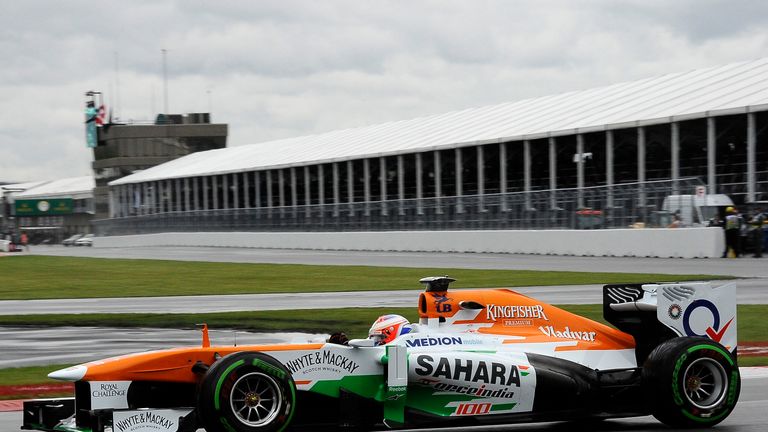 The Force India driver was fastest on a drying track in P1 and also featured at the sharp end early in the afternoon session. An electrical problem then curtailed his running but di Resta reckons that he can improve upon his fourth-place finish in Bahrain provided things run smoothly during the rest of the weekend.
"Given the weekend in Bahrain, if we can unleash the car's potential we can get on the podium. In Bahrain, if we'd just been a little bit quicker we would have achieved it," said di Resta, who ended the day 13th fastest.
"Here suits our car a bit better but that doesn't mean we're going to get straight on the podium. It's hard work. Reading the conditions is key; we have to make sure we don't make any mistakes in qualifying and put ourselves in the best position for Sunday.
"It could be a big opportunity for us. As I've said, the speed is showing well. As long as we can maintain that then we'll have high hopes."
The Scot's mention of qualifying mistakes was undoubtedly a reference to Monaco, where a strategic error meant that he dropped out in the first session. Starting the race 17th, di Resta finished ninth - further evidence of Force India's strong start to the season.
An indication that it might continue at their 100th grand prix comes when one considers that di Resta's problem prevented him from running the supersoft tyre. His best time on mediums was just over a second slower than that of pacesetter Fernando Alonso - roughly equivalent to the performance difference between the prime and option rubber.
Describing his day's work, di Resta said: "We didn't do many laps on my car, we only did 30 in total which is not a lot. But we seemed quite comfortable on the intermediate and also this morning we got the impression the car was quite strong in the dry.
"That led us into FP2, where I think our performance on the medium tyres - both the prototype and the standard one - showed very strong. I think that when we were on track, we were well within the top three.
"Unfortunately, we weren't able to unleash it properly on the supersoft because of an electrical problem which has compromised our long-run data and is probably the most important part of our Friday.
"So there's a big question mark, but I suppose the nice thing is that the car seems to be fast. If we can make the same gain that most cars made on supersofts then we should be looking, hopefully, in the top six.
"We'll sit down and try and improve upon it but with some stable conditions tomorrow, I think it'll be well up our street because we can maximise where we are."
Di Resta would not be drawn on the specifics of Pirelli's prototype tyre, which was debuted on Friday as they seek to fix the delamination problems seen recently.
"It's an unfair test because we were straight out on a green track. We're not commenting too much on it, I think it was very benign but we'll have to have a good look at the wear profile and where it is," he added.
"There's guys here whose speciality is to see that. We're concentrating on our tyres for this weekend because that's what we're racing on."